Chrysler Maserati TC, 1987-91
Convertible Top and Convertible Top Parts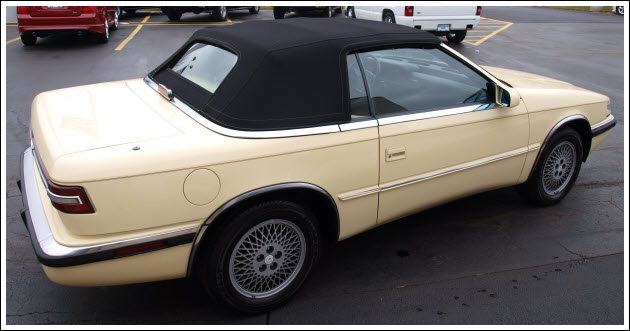 Chrysler Maserati TC Key Features:
Quality: Made to Chrysler specs, 100% fit guarantee.
Original Configuration: Two piece top, top section and window section
Original Factory Material: Haartz stayfast canvas
Original Window: Glass or plastic window
Alternate Materials: Chrysler sailcloth vinyl
Package Specials: Cost savings for all of your installation needs with

package specials

, this can include the detailed manual, new cables, pads/webbing, tack strips and glue kit.

Shop with confidence:

5 year manufacturer warranty.
Shop



Have a question?
Talk to us!
---
Important Information
The Chrysler Maserati convertible is different than the Maserati bi-turbo convertible which was discontinued in mid 1989. The tops on this page are the "TC" tops. If you have the earlier bi-turbo, those tops are listed separately.
The original Maseratic TC convertible top fabrics were black stayfast canvas and also buckskin sailcloth vinyl.
The canvas topping has a canvas outer layer and a pre-shrunk cotton inner layer. The two are bonded with a butyl rubber compound which becomes the central core of the fabric. This process makes for a very durable and long lasting top.
Sailcloth vinyl has its outer (vinyl) layer designed to emulate canvas. It is a rich looking fabric which does not have quite as good a wear rating as the stayfast canvas.
These tops were designed in two parts, the main top and the "curtain." the curtain is the trade name for the rear window section. The main top and the curtain are joined during the installation process.
You may order either the top or the curtain separately. This is in the event that you want to do one of the following: (a)Keep the old curtain and install the main top over it, or (b)keep the old main top and install a new curtain. A complete restoration will require the purchase of both the main top and also the curtain.
the curtain is available with a plastic or with a glass window.
The top is sold with the front bow portion assembled and with side attaching brackets.
the headliner is offered as an accessory, see below.
Those considering self-installation might wish to read the summary of our two part top installation manual (see link below) or to order the 22 page manual (see accessories below.)
Parts in this category (Chrysler Maserati TC) fit cars for years: 1987, 1988, 1989, 1990 and 1991.
We a now pleased to offer hydraulic cylinders, hydraulic motor pumps, and hydraulic hose sets for many different convertibles, they will be listed on your cars page if available. Also, checkout our newly added roof rail weatherstripping seals, front header weatherstripping seals, door weatherstripping seals, trunk weatherstripping seals. Look for extra savings on weatherstripping seals kits.

We are continuing to grow our convertible related products: These include convertible top latches, tonneau covers, relays, switches, rear tacking rails (trimsticks), seat covers, car covers, and carpeting.