Mercury Capri, 1989-94
Convertible Top and Convertible Top Parts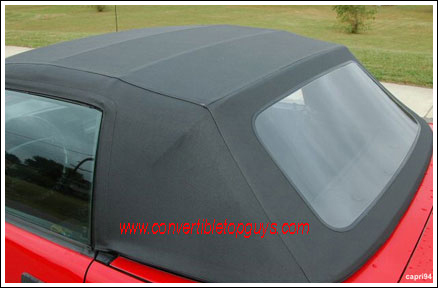 Mercury Capri Key Features:


also fits Australian Ford Capri
Quality: Made to Mercury specs, 100% fit guarantee.
Original Configuration: One-piece top. Plastic window is electronically welded into the top.
Original Factory Material: Cabrio vinyl
Original Window: Plastic window.
Original Colors: Black and Tan
Alternate Materials: Haartz Stayfast Canvas
Cables: A horizontal cable and a vertical cable are encased on each side of this top. They secure the top to its framework and are hidden from view once installation is complete. Cables should be replaced with each top.
Package Specials:Get a Mercury Capri convertible top and everything you need to install for one discounted price. Our Best Buy packages include a Capri top plus all of the convertible top cables (a pair of hold down side cables and a pair of rear flap cable), our own detailed step-by- step Mercury Capri Convertible Top installation manual, and a can of professional grade contact cement with brush,

all at a discounted price.

Shop with confidence:

8 year manufacturer warranty.
Our Mercury Capri convertible tops are made from original patterns: The rear window is bonded with an electronic weld and includes heat-sealed detail around the window. The thread, fabric, window guage, welting, are of the highest quality.
Shop



Have a question?
Talk to us!
---
---
Important Information
Original Factory Color(s):
Black and Tan
Fabrics:
The dealer original Mercury Capri convertible top fabric was 'Cabrio vinyl' (a pigskin grained convertible top vinyl) on most cars sold. A small percentage were supplied in black Stayfast canvas. We offer both top fabrics as an option for every Capri replacement soft top.
Differences Between Vinyl and Canvas Tops:
Canvas is elegant and has the highest wear rating. This is due to its butyl rubber central core. However the vast majority of our customers select the Cabrio vinyl for this convertible top, especially those considering do-it-yourself installation. The vinyl is easier to keep clean. Its wear rating is about 20% less than that of the canvas.
Top Design:
We never sell "seconds" or any convertible top made withe fabric "seconds." The detailing of our top is as original: the rear window of the top is bonded with an electronic weld and includes the heat sealed detail around the window. The welt cording above the door glass is utilized. As in all premium tops, thread, fabric, window guage, welting and other top variables are of the highest quality.
Installation Manual:
A restorer has produced our guide to do-it-yourself installation of the Mercury Capri convertible top. It is available with purchase of a replacement convertible top or of a convertible top restoration package. Installation requires the use of contact cement, and the careful alignment of fabric with frame. There is removal of hardware from the original convertible top and its replacment in the new top, and the same for the top frame seals. There is no sewing involved in the top's installation.
Hold down cables:
There is a horizontal and a vertical cable encased in the top on each side. These cables secure the top to the framework. Cables are hidden from view after installation.
Proper functioning of the hold down cables is vital for a secure restoration; cables should be replaced with each top.
Checkout Message:
Experienced staff go over every order. Please use the checkout message box for any requests or additional information.
To our Australian customers: If you fill out an order
on line, it will automatically route your information
to our Internatational order person, who will reply with full shipping
information to your address, and a payment request note. Your on line
"order" will not require any payment information, and you may simply abandon
the "order" if you feel the shipment cost is not to your liking.
Parts in this category (Mercury Capri) fit cars for years: 1989, 1990, 1991, 1992, 1993 and 1994.
We a now pleased to offer hydraulic cylinders, hydraulic motor pumps, and hydraulic hose sets for many different convertibles, they will be listed on your cars page if available. Also, checkout our newly added roof rail weatherstripping seals, front header weatherstripping seals, door weatherstripping seals, trunk weatherstripping seals. Look for extra savings on weatherstripping seals kits.

We are continuing to grow our convertible related products: These include convertible top latches, tonneau covers, relays, switches, rear tacking rails (trimsticks), seat covers, car covers, and carpeting.