Mazda Miata, Factory Style, Two Piece Convertible Tops, 1989-97
Convertible Top and Convertible Top Parts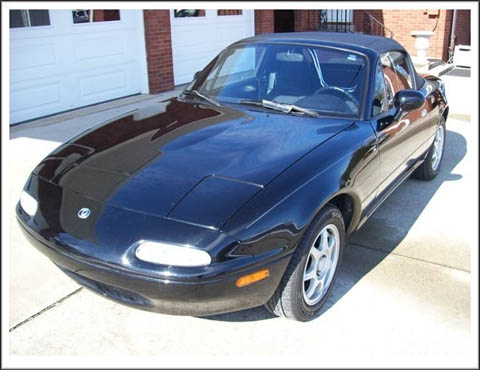 "I just finished installing the Mazda Miata, Factory Style, Two Piece Convertible Top in my 96 Miata. The instructions were very good. The fit is perfect. The uninstall and install was very smooth. Excellent product."

--Howard R.
Satisfied Customer
The Mazda Miata tops and top packages on this page are two-piece original factory-style tops for the 1989-1997 Mazda Miata.

For our Easy Install versions of this Mazda Miata top, with modern non-zippered windows
click here
.
Mazda Miata, Factory Style, Two Piece Convertible Tops, Key Features:
Quality: Made to Mazda specs, 100% fit guarantee.
Original Configuration: Two-piece top, top section and window section
Original Factory Material: Cabrio vinyl
Original Window: Plastic or glass window.
Original Colors: Black & Mazda Tan
Alternate Materials: Haartz stayfast canvas
Package Specials: Our Best Buy Mazda Miata convertible top packagesinclude a Miata top and everything you need to install it. Order a money-saving package and you'll get a Miata convertible top, new hold down cables, a 4-ounce can of professional-grade contact cement, and a profusely illustrated Mazda Miata convertible top installation manual, which

will walk you through the process beginning to end!

Shop with confidence:

5 year manufacturer warranty.
New! Mazda Miata Wind Deflectors, decrease back draft by 75%! Listed under the accessories category.

Have a question?
Talk to us!
---
---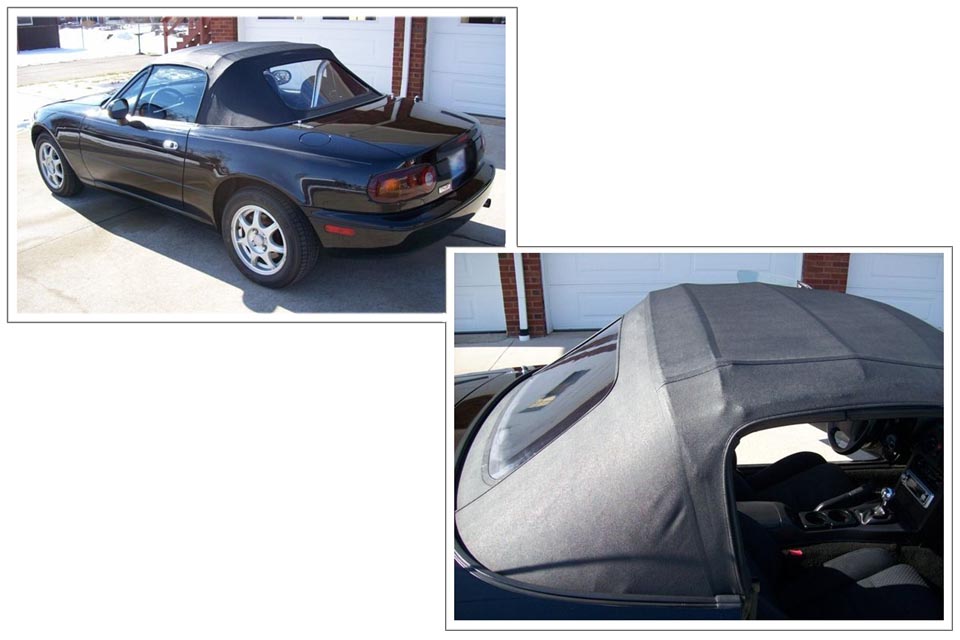 Important Information
Original Factory Color(s):
Black, Mazda Tan and Light Tan
Difference between zippered and non-zipper tops:
Zippered tops, as original, can have the rear window lowered while
the top is up. Lowering of a glass window top which has a zipper
requires that the zipper be unzipped prior to the lowering of the top.
Non-zipper window tops have been redesigned so that
they are easier to install, do not require fussing with a zipper
to raise and lower, and they are less expensive.
Available colors:
Original colors in Miata vinyl are black (#1002), Mazda tan (#1414) and Saddle (#1717).
Other colors are available but will take more time to deliver
and will incur a surcharge.
You may order a top in Haartz Stayfast canvas, which can be custom made
to original patterns in any of the colors shown.
The Rain Rail (Gutter):
The rain rail, at the base of the top, guides water into drains near the rear wheels.
A new rain rail is required in a top replacement only when the current one is apparently damaged.
Most often the old rain rail can be cleaned and applied with the new top.
Original riveting of the rain rail to the base of the top was done to facilitate transporting.
It is not necessary to rivet the rain rail to the new top as this serves no functional purpose!
It will therefore be easier if a new rain rail is required, to purchase it separately.
Typically a factory quality rain rail will last through three or more tops.
We offer durable rain rail replacements, listed with accessories.
We also offer an Economy Rain Rail which functions as well but is "lighter duty."
It is made of thinner vinyl and has base line plastic reinforcement.
It should last for about two tops.
Hold down cables:
There is one cable on each side of the car embedded in the top.
The cables fasten the top (front and rear on each side) to the frame and provide variable tension
to the top sides as it is raised and lowered.
New cables have stainless steel plates replacing the original plastic ones.
Do-It-Yourself Installation:
Our step by step, Miata top instruction booklet covers all the steps in the removal of the old top
and the installation of the new top. Miata tops are not difficult to install.
There no sewing or stapling. The use of pop rivets, contact cement and some fastidious removal
and replacing of bolts and screws is required.
On another page we list the "Easy Install" tops with non-zipper windows.
Design changes, besides the elimination of the zipper, are described.
These tops are even easier to install.
__________________________________________________________________________________
Just a quick note saying "thanks" for a great product. I received my Miata Econo top earlier this week
and installed it today. Took me about 7 hours but I've got a super looking top that fits like a glove.
Your instructions are not only very accurate, but supportive in the little details
like keeping hands clean with a light colored top (mine is tan) and using the fork for the clips.
I was able to reuse every clip I removed. The construction and material look to be very durable.
I'll recommend your company to my other Miata friends.
Ted M
Lenoir, NC
____________________________________________________________________
Parts in this category (Mazda Miata, Factory Style, Two Piece Convertible Tops) fit cars for years: 1989, 1990, 1991, 1992, 1993, 1994, 1995, 1996 and 1997.
We a now pleased to offer hydraulic cylinders, hydraulic motor pumps, and hydraulic hose sets for many different convertibles, they will be listed on your cars page if available. Also, checkout our newly added roof rail weatherstripping seals, front header weatherstripping seals, door weatherstripping seals, trunk weatherstripping seals. Look for extra savings on weatherstripping seals kits.

We are continuing to grow our convertible related products: These include convertible top latches, tonneau covers, relays, switches, rear tacking rails (trimsticks), seat covers, car covers, and carpeting.