Mazda RX-7, 1988-92
Convertible Top and Convertible Top Parts
Mazda RX-7 Key Features:
Quality: Made to Mazda specs, 100% fit guarantee.
Original Configuration: Two-part top with glass and its framework embedded during installation. See below.
Original Factory Material: Vinyl
Original Window: Glass. (You will reuse original window with RX-7 convertible top restoration.)
Original Colors: Black
Alternate Materials: Haartz Stayfast Canvas
Package Specials: Cost savings for all of your installation needs with

package specials

, this can include the detailed manual, contact cement, pry tools, and sometimes, cleaning supplies.

Shop with confidence:

5 year manufacturer warranty.
Best Buy!
THE ORIGINAL MAZDA RX-7 CONVERTIBLE TOP PACKAGE
Comfortable with contact cement? Handy with a pry tool? Good. Because those are the skills you'll need to install your RX-7 top. This two-part top is one of the easiest convertible tops to install yourself -- the front and rear pieces attach to your car separately, so no integration is necessary. You'll recycle your old rear window, and the top design lets you snap it in place easily. What could be better? A great deal, of course. And that's where this Best Buy RX-7 Convertible Top package comes in. The package includes:
Mazda RX-7 Convertible Top in Original Haartz Pinpoint Vinyl with Attached Rain Guards
RX-7 Convertible Top Installation Manual
4-oz Can of Contact Cement
Convertible Top Plastic Pry Tool
Without Hoses
Price: $529.95
With New Attached Hoses
Price: $569.95

Have a question?
Talk to us!
---
---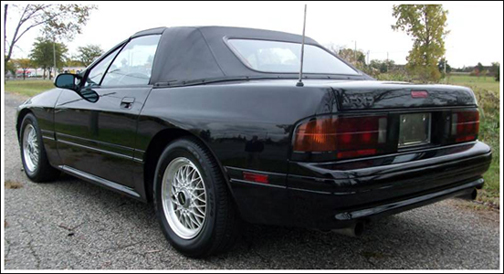 Important Information
Original Factory Color(s):
Black
Why doesn't my top include a rear window?
The RX-7 convertible top rear windows are not made anymore. So you must re-use your glass window in its original framework. The window snaps into the frame, and the frame attaches to the new top.
Which RX-7 convertible top fabric should I buy?
We offer the Mazda RX-7 in Haartz Pinpoint Vinyl and also in elegant Haartz Stayfast Canvas. Here's what you need to know about each material before you make your purchase:
Haartz Pinpoint Vinyl: Haartz Pinpoint Vinyl is a two-ply composite with a PVC outer layer and a cotton inner lining. Pinpoint refers to the little dots on the vinyl surface. The original Mazda RX-7 convertible top was very similar to Haartz Pinpoint Vinyl. Haartz Pinpoint Vinyl is a popular convertible top fabric. In fact, this fabric is original to most American cars made before 1993. If you take care of a Haartz Pinpoint Vinyl RX-7 top, it can easily last 10 years.
Haartz Stayfast Canvas: If you're looking to upgrade your vinyl RX-7 top, consider a convertible top made of Haartz Stayfast Canvas. This fabric is the American substitute for the German canvases used in Mercedes, Porsche, BMW, as well as some Mustang and Lebaron models. Haartz Stayfast Canvas is a three-ply composite material made of an acrylic square-weave outer fabric, a butyl rubber core, and a cotton lining. The butyl rubber core promises to make Haartz Stayfast Canvas last a very long time. This canvas is a little richer looking than the vinyl. It's also a little harder to clean. Stayfast Canvas has both better static and dynamic wear ratings than vinyl tops.
Should I purchase this top with or without hoses?
The Mazda RX-7 uses drain hoses to direct water out to the fender wells, instead of into your trunk. We sell tops with or without new attached hoses, but generally recommend if you're purchasing a new top you should buy one with the attached new hoses. Though you can re-use your old hoses on your new top, the RX-7 tops with attached new hoses only cost $10 more than comparable tops without hoses. That $10 will save you the hassle of re-attaching your hoses, which can be a chore.
Do I need new drain hoses?
Rain guards are attached to the new top behind the door jambs. They attach to the drain hoses. New rain guards are supplied with our tops. Hoses can generally be re-used several times. They are listed with accessories if needed. If your hoses are shot you can order our top with new hoses pre-attached to save some labor. For the extra $10 that it will cost, that's what we generally recommend as re-attaching old hoses can be a hassle. Or you can order, separately, the drain hose attachment kit (new hoses plus accessories and instructions for full installation.)
Can I install this top myself?
Yes! Just keep in mind that the RX-7 convertible top design is unusual. Like most two-part tops, the RX-7 top features a front and rear section. But instead of integrating the two sections as is necessary with most convertible tops, the RX-7 front piece works more like a Targa top: A bar stretches across the top of the car. You attach the front section to its own frame and you attach the rear section to the top bar.
This type of installation makes the RX-7 convertible top one of the easier convertible tops to install. You will need to re-use your old window. Most Mazda RX-7 convertible top restorers are able to transfer the window section from the old convertible top to the new top.
Our Mazda RX-7 convertible top installation manual will walk you through Mazda RX-7 do-it-yourself installation.
What will your RX-7 Convertible Top Installation Manual tell me?
We offer a 16 page 8 1/2 x 11 illustrated step-by-step installation manual. This is a step by step manual specifically for the RX-7 convertible top removal and installation. This was written especially for the first time installer and elaborates all removal and installation steps. The work involves stapling or tacking and the use of contact cement and a couple of rivets or metal screws. The most difficult part is the transfer of the rear window frame which is very doable for the handy person. The glass is installed by manipulating the window seal over the lip of the steel window frame. This involves a common procedure called "roping in." It is something that any auto glass shop can do.
What about RX-7 Headliners?
We offer the headliner for the convertible interior roof. It includes the plastic section below the back window sewn in. Also included is sufficient yardage for the front section. The other plastic piece must be transferred from the old headliner. The headliner is listed with "Accessories." We offer replacement boots in leather grained boot vinyl. Our boot comes with the 15 tenax fasteners required.
Parts in this category (Mazda RX-7) fit cars for years: 1988, 1989, 1990, 1991 and 1992.
We a now pleased to offer hydraulic cylinders, hydraulic motor pumps, and hydraulic hose sets for many different convertibles, they will be listed on your cars page if available. Also, checkout our newly added roof rail weatherstripping seals, front header weatherstripping seals, door weatherstripping seals, trunk weatherstripping seals. Look for extra savings on weatherstripping seals kits.

We are continuing to grow our convertible related products: These include convertible top latches, tonneau covers, relays, switches, rear tacking rails (trimsticks), seat covers, car covers, and carpeting.