Kia Sportage, 1996-02
Convertible Top and Convertible Top Parts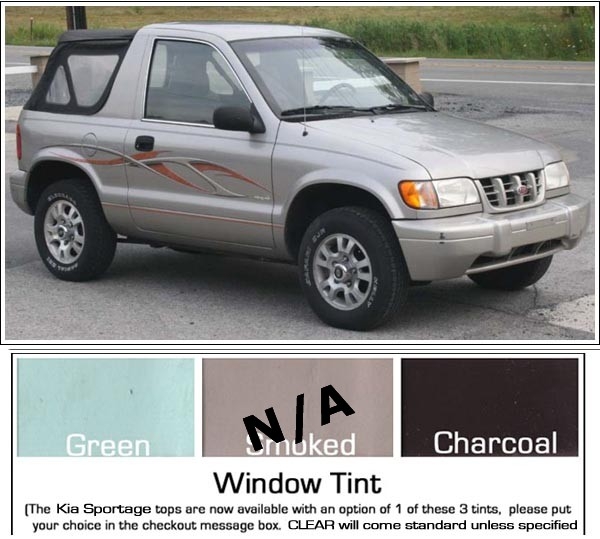 Kia Sportage Key Features:
Quality: Made to Kia specs, 100% fit guarantee.
Original Configuration: NA
Original Factory Material: Cabrio Grain Vinyl
Original Window: Plastic window
Original Colors: Black and White
Alternate Materials: Crush Grain Vinyl, Haartz Stayfast Canvas, Camouflage Vinyl
Package Specials: Cost savings for all of your installation needs with package specials, this can include the detailed manual, new cables, pads/webbing, tack strips and glue kit.

Shop with confidence:

5 year manufacturer warranty.
Shop



Have a question?
Talk to us!
---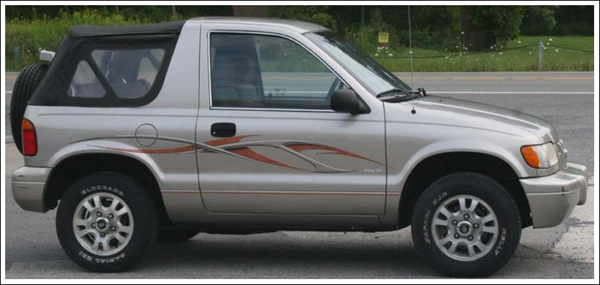 Important Information
Original Factory Color(s):
Black and White
Fabric:
The original fabric was a 'cabrio vinyl' which has a 'pigskin' grain. You can view the fabrics in the 'view color' selection link.
Windows:
Windows are electronically welded into the top fabric sections as original. All windows zip out, also as originally designed.
Windows supplied will be clear unless you specify otherwise in the checkout message box. You may specify charcoal, or green windows if preferred. Please do so in the checkout message box.
Original Patterns:
These tops are made from sections that are shaped with computer guided cutting from original top patterns. They are not modified and are not "copies of copies."
Tire Cover:
The tire cover is available and listed under "accessories." It is available in the same topping fabrics.
Please allow three weeks for delivery of this top.
Parts in this category (Kia Sportage) fit cars for years: 1996, 1997, 1998, 1999, 2000, 2001 and 2002.
We a now pleased to offer hydraulic cylinders, hydraulic motor pumps, and hydraulic hose sets for many different convertibles, they will be listed on your cars page if available. Also, checkout our newly added roof rail weatherstripping seals, front header weatherstripping seals, door weatherstripping seals, trunk weatherstripping seals. Look for extra savings on weatherstripping seals kits.

We are continuing to grow our convertible related products: These include convertible top latches, tonneau covers, relays, switches, rear tacking rails (trimsticks), seat covers, car covers, and carpeting.