Chevrolet Tracker, Geo Tracker, 1999-04
Convertible Top and Convertible Top Parts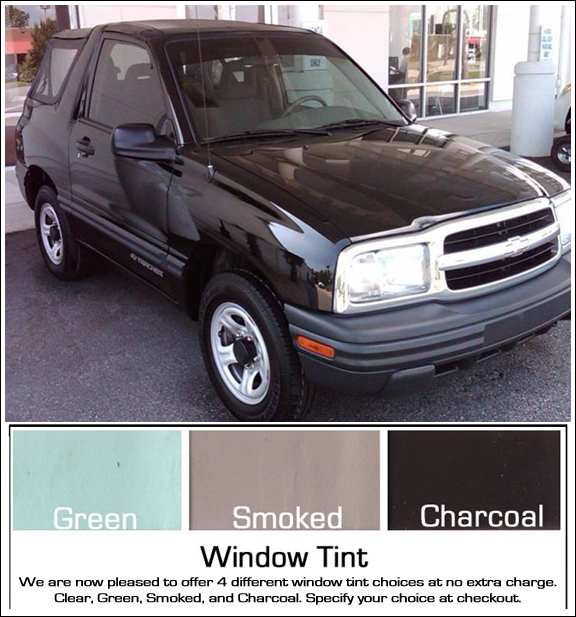 Chevrolet Tracker, Geo Tracker Key Features:
Quality: Made to Chevrolet specs, 100% fit guarantee.
Original Configuration: NA
Original Factory Material: Crush Grain Vinyl
Original Window: Plastic windows
Original Colors: Black and White
Alternate Materials: NA
About Our Tracker Tops: All tops are made wtih high-quality OEM-grade materials, manufactured in the U.S. Window materials are DOT approved. All weather strip, plastic and metal attachment components and zippers are high grade.

Shop with confidence:

6 year manufacturer warranty.
Shop



Have a question?
Talk to us!
---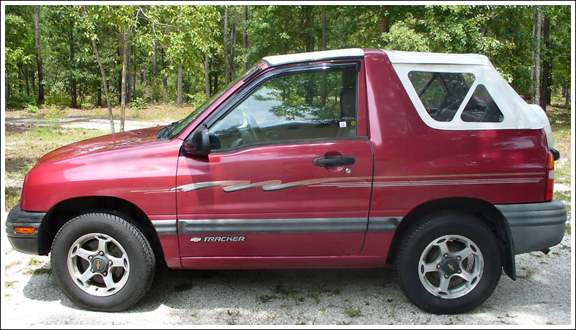 Important Information
Original Factory Color(s):
Black and White
Original Configuration:
We are pleased to offer factory style replacement soft tops for your 1999-04 Chevrolet/Geo Tracker. As original it is a 5 piece top with side and rear windows. The rear window zips out. The top installs with snaps and plastic.
Original Material: The original material was black or white crush grain vinyl. We also offer some nice alternative materials with a wider color selection.
About The Materials:
Haartz Pinpoint Vinylis the most popular fabric. This vinyl design is original to most American cars from the fifties to the nineties. Pinpoint refers to the little dots or pips that you see if you look closely at the vinyl surface. European cars, such as the old Beetles and others also used pinpoint vinyl as the topping fabric.
Haartz Stayfast Canvas has a canvas outer layer and a preshrunk cotton inner layer. The two are bonded with and separated by a butyl rubber core. It is this core that makes the fabric last a very long time, with both better static and dynamic wear ratings than vinyl toppings. Haartz Stayfast is the American substitute for the German canvases used in Mercedes, Porsche, BMW, some models of Mustang and Lebaron and others. Canvas is widely regarded as "richer looking" than vinyl. It is a little harder to clean. The inside of the top is pre-shrunk cotton. The inner lining is usually black. If you do not see a canvas top listed for your car, please inquire and we will provide a quotation for it.
Chrysler Sailcloth is featured on many late LeBarons, Sebrings, certain Mustangs and other cars. It is structurally (wear quality) equivalent to the Haartz Pinpoint but has a different surface grain. The grain was designed to imitate the look of canvas. As you can see from the scan of this fabric, it is an exceptionally rich looking material. It is sometimes chosen for replacing convertible tops that originally featured pinpoint vinyl.
Crush Grain Vinyl is similar to pinpoint vinyl but has a different texture, view swatch above.
4 Ply Crush Grain Tops are made with a vinyl outer and cloth inner layer, bonded with a central layer. For somewhat greater longevity for off road users, you may select a 4 ply (extra central layer) top.
Installation: This top installs fairly easily and the steps are covered in the owner's manual.
________________________________
I love my top for the Tracker. It made my car look like new. I am a 70 year old female and installed it by myself with no problems. It went on smooth and easy. The instructions were so great that I actually figured out how to remove the entire back window that I had been unzipping and tucking in due to not know how to completely remove. Thanks for a great product.....J.F., Rahway, NJ
Parts in this category (Chevrolet Tracker, Geo Tracker) fit cars for years: 1999, 2000, 2001, 2002, 2003 and 2004.
We a now pleased to offer hydraulic cylinders, hydraulic motor pumps, and hydraulic hose sets for many different convertibles, they will be listed on your cars page if available. Also, checkout our newly added roof rail weatherstripping seals, front header weatherstripping seals, door weatherstripping seals, trunk weatherstripping seals. Look for extra savings on weatherstripping seals kits.

We are continuing to grow our convertible related products: These include convertible top latches, tonneau covers, relays, switches, rear tacking rails (trimsticks), seat covers, car covers, and carpeting.