Geo Tracker, Chevrolet Tracker, 1995-98
Convertible Top and Convertible Top Parts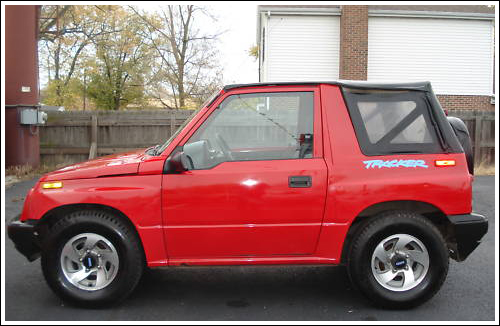 Geo Tracker, Chevrolet Tracker Key Features:
Quality: Made to Geo Specs, 100% fit guarantee.
Original Configuration: NA
Original Factory Material: Crush Grain Vinyl
Original Window: Plastic windows
Alternate Materials: NA

Shop with confidence:

5 year manufacturer warranty.
Shop



Have a question?
Talk to us!
---
---

Important Information
Original Configuration: The original factory tops were made with both denim vinyl and crush grain vinyl.
Original Tops Replacements:The tops on this page are not "stretch and fit" aftermarket modified tops. They are made to replace the originals and attach as originally designed with snaps. You will transfer the steel stiffener bar from the old top to the new one (at the base of the window.)
Windows:For these years, as originally designed, the side windows and the rear window do zip out. If you do not specify otherwise in the checkout message box, we will ship your top with clear windows. You may specify, if you wish, smoke, green or charcoal windows.
Installation: This top installs fairly easily and the steps are covered in the owner's manual. We printed these out, so if you are missing your manual, just ask for the instructions: free with a top.
Material: The original fabric was denim vinyl. We also offer these tops in a 4 ply black or white crush grain vinyl.
4 Ply Tops: These tops are made with a vinyl outer and cloth inner layer, bonded with a central layer. For somewhat greater longevity for off road users, you may select a 4 ply (extra central layer) top. The white tops are all made only in white over white 4-ply.
Tire covers: We have replacement tire covers in matching crush grain vinyl topping fabric. If you order a tire cover please specify the size of your tire (for example: 255/75R-15) and whether you wish black or white crush grain vinyl. You will have an ample checkout message box. Tires are listed with "accessories" above.
________________________________
I love my top for the Tracker. It made my car look like new. I am a 70 year old female and installed it by myself with no problems. It went on smooth and easy. The instructions were so great that I actually figured out how to remove the entire back window that I had been unzipping and tucking in due to not know how to completely remove. Thanks for a great product.....J.F., Rahway, NJ
Parts in this category (Geo Tracker, Chevrolet Tracker) fit cars for years: 1995, 1996, 1997 and 1998.
We a now pleased to offer hydraulic cylinders, hydraulic motor pumps, and hydraulic hose sets for many different convertibles, they will be listed on your cars page if available. Also, checkout our newly added roof rail weatherstripping seals, front header weatherstripping seals, door weatherstripping seals, trunk weatherstripping seals. Look for extra savings on weatherstripping seals kits.

We are continuing to grow our convertible related products: These include convertible top latches, tonneau covers, relays, switches, rear tacking rails (trimsticks), seat covers, car covers, and carpeting.
Email questions to: support@mtmfg.com Shipping Warranty




Copyright © 2013 M&T Manufacturing, 30 Hopkins Lane, South Kingstown, RI 02879