Ford Mustang, 2005-2014
Convertible Top and Convertible Top Parts
Fits The Ford Mustang, Cobra & GT500
Ford Mustang Key Features:
Quality: Made to Ford specs, 100% fit guarantee.
Original Factory Material: Sailcloth Vinyl and Sonnendeck (Twillfast) Canvas
Key Top Info: Made with original-style plastic extrusions to secure the top to the bows, left and right front quarter brackets to attach to frame, and original-style rubber extrusions sewn in over door glass.
Alternate Materials: Twill Vinyl, Trilogy Vinyl, and Stayfast Canvas
Original Window: Glass window with defroster
Original Colors:
2005-2008: Black, Camel, Performance White (2005), Parchment Gray (2005 only), Sailcloth Vinyl with Gray Backing.
Cobra/GT500 Models: Black Haartz Twillfast RPC Cloth with Black Dobby Backing.
2009-2014: Black; Medium Light Stone Sailcloth Vinyl with Gray Backing.
Cobra/GT500 Models: Black Haartz Twillfast RPC Cloth with Black Dobby Backing.

Shop with confidence:

6 year manufacturer warranty.
Can I Install this Mustang Top Myself ?


Our step-by-step manual should guide the handy installer through the removal and installation of the top, pads, and headliner as required. There is no sewing required. The installer should be able to use an air-driven staple gun or our electric stapler, to apply staples along the rear base line of the top, and also handle a pop rivet gun. The installation requires removal (from the old top) of several pieces of hardware (fasteners) and the transfer of them to the new top.
Shop



Have a question?
Talk to us!
---
---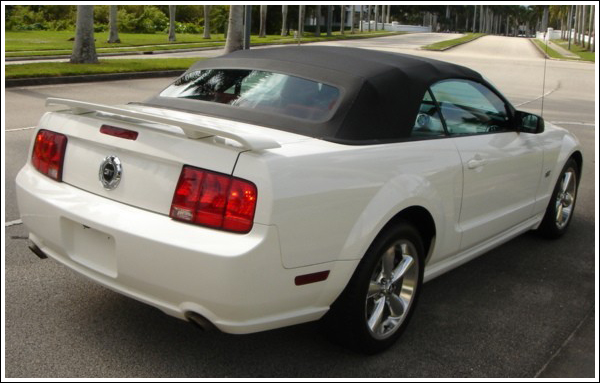 Important Information
Original Factory Color(s):
Black and Camel
Fabrics:
Dealer tops were available in both Sailcloth vinyl and in Twillfast (also called Sonnendeck) canvas. We offer tops in both these fabrics. We also offer tops in a new material called Trilogy Acoustic Vinyl.
Trilogy Acoustic Vinyl is a heavyweight vinyl that is often used on SUVs like Jeep, because the two-ply composite has the capacity to reduce noise by about 20 percent compared to standard vinyls like Sailcloth. The vinyl material is durable, promises long-lasting wear-and-tear, and resembles the sleek twill cloth commonly found on luxury convertible cars.
Original Configuration:
Our tops are made using computer directed cutting of fabric. Patterns are taken from original tops: these are not "copies of copies."
The defroster window is integral with the top, which is a one piece convertible top.
Hold Down Cables:
We can supply replacement hold down cables (see "accessories.") If you are replacing a damaged top which has not been raised and lowered too many times, you can likely remove the cables from the old top and reuse them.
Headliner:
The headliner is the inner roof covering. Originally it was a black soft cloth. We can supply a replacement headliner. If your headliner is in good condition, it can be removed and then reinstalled under the new top. Headliners are listed with "accessories."
Parts in this category (Ford Mustang) fit cars for years: 2005, 2006, 2007, 2008, 2009, 2010, 2011, 2012, 2013 and 2014.
We a now pleased to offer hydraulic cylinders, hydraulic motor pumps, and hydraulic hose sets for many different convertibles, they will be listed on your cars page if available. Also, checkout our newly added roof rail weatherstripping seals, front header weatherstripping seals, door weatherstripping seals, trunk weatherstripping seals. Look for extra savings on weatherstripping seals kits.

We are continuing to grow our convertible related products: These include convertible top latches, tonneau covers, relays, switches, rear tacking rails (trimsticks), seat covers, car covers, and carpeting.