Volkswagen Cabrio & Golf, Late 2001-2002
Convertible Top and Convertible Top Parts
Volkswagen Cabrio & Golf Key Features:
Quality: Made to Volkswagen specs, 100% fit guarantee.
Original Configuration: One piece top with heat-sealed glass window. No deck seams, no binding. (Check your rear window before ordering. Use 1995-early 2001 Cabrio page if your top has a rubber seal around the window.)
Original Factory Material: Sonnendeck Canvas
Original Window: Glass window with defroster.
Original Colors: Black, Titan Gray, Dark Blue and English Green
Alternate Materials: Cabrio vinyl
Is My Car a Late-2001 Cabrio? Your Cabrio is a late-2001-2002 if  there is no rubber seal around the rear window (see example).
Package Specials: Our Best Buy packages offer everything you need to install this top -- including hold down cables, professional grade contact cement, convertible top pry tool, and Cabrio Install Guide: late 2001-2002 -- at a discounted price. (Note: You do not need staples or a stapler to install this top.)

Shop with confidence:

5 year manufacturer warranty.
NEW:1994-04 Volkswagen Cabrio, Convertible Top Wind Deflector, decrease wind back draft by 75%!
Best Buy!
THE CABRIO INSTALL-IT-YOURSELF PACKAGE:
Comfortable with contact cement? Then we believe you can install your own top--and save hundreds of dollars on labor costs! Our Cabrio Install-it-Yourself package can help. (There is no sewing or stapling involved in sewing this top.) The package includes:
Cabrio Vinyl Convertible Top
Hold Down Cables
Can of Trimmer Contact Cement with Brush
Convertible Top Plastic Pry Tool

GLASS WINDOW WITH DEFROSTER

Price: $699.95

PLASTIC WINDOW
NO DEFROSTER

Price: $399.95




Have a question?
Talk to us!
---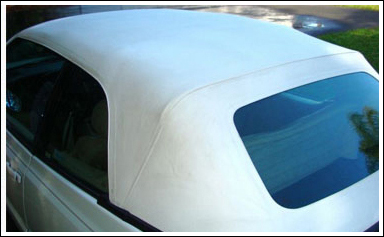 Important Information
Original Factory Color(s):
Black, Titan Gray, Dark Blue and English Green
These Cabrios are descended from the Rabbits, Cabriolets and earlier Cabrios manufactured since 1979 and modified as the years went by. Volkswagen made changes in order to "upscale" these convertibles (and their sedan cousins.) In particular they offered a canvas fabric for its dealer convertible top for 2001 and 2002, in addition to vinyl tops.
Original Topping: The dealer tops were often made of Sonnendeck (Twillfast) Canvas. This is a very durable and beautiful fabric. It has a woven inner cloth and a fabrication that makes it extremely durable. For many owners, especially those considering self-installation, putting on a Cabrio Vinyl top might be more cost effective. (The labor cost of installation incurred a little faster than with canvas is not a factor when self installing.) We offer these tops in Sonnendeck Canvas and in Cabrio vinyl.
Original Colors: The dealer canvas tops were either black, green, or dark blue (with rare exceptions.) Vinyl tops were black, beige, gray and white. (We are offering the 'Cabrio Pigskin grain" vinyl. Twill VW vinyl is not available in the aftermarket at this writing.) We will be happy to provide a Sonnendeck Canvas top, or a Cabrio vinyl top, in any of the colors shown. Please review the scanned swatches via the above links and jot down your color choice. You may specify it in the checkout message box.
Our Manufacturer: We are pleased to be a Germanex dealer. This manufacturer specializes in German convertible tops. The tops are manufactured as original, from original patterns, with correct detailing and structural aspects throughout.
Premature Window Damage: Some owners are experiencing unhappy shattering of the rear window during normal operation of the top. This is probably due to a combination of the tight design in conjunction with normal vibration wear. This 'street experience' has led us to develop a plastic rear window version for this top. The dealer replacement top has a defroster rear window installed in the top, as original. The plastic rear window top uses a 40 guage polyvinyl rear window instead. The plastic rear window does eliminate the danger of rear window shatter.
Hold Down Cables: Installation of the new top requires the insertion of VW cables through the side cable hems of the top. The cable ends attach to the framework and tie down the top fore and aft. If your top has not frequently been raised and lowered, it may be feasible to re-use the existing cables, removing them from the old top and installing in the new one. New cables are listed as accessories, below.
Headliner: The headliner (inner roof lining) may be lowered and re-used in a top restoration job. However, if your headliner requires replacing, we do offer the beige cloth headliner. It is listed with accessories below. If you wish to change the color of your headliner, please inquire as we can have your headliner custom made in other cloth colors.
Parts in this category (Volkswagen Cabrio & Golf) fit cars for years: 2001 and 2002.
We a now pleased to offer hydraulic cylinders, hydraulic motor pumps, and hydraulic hose sets for many different convertibles, they will be listed on your cars page if available. Also, checkout our newly added roof rail weatherstripping seals, front header weatherstripping seals, door weatherstripping seals, trunk weatherstripping seals. Look for extra savings on weatherstripping seals kits.

We are continuing to grow our convertible related products: These include convertible top latches, tonneau covers, relays, switches, rear tacking rails (trimsticks), seat covers, car covers, and carpeting.