Dodge Viper, 1992-96
Convertible Top and Convertible Top Parts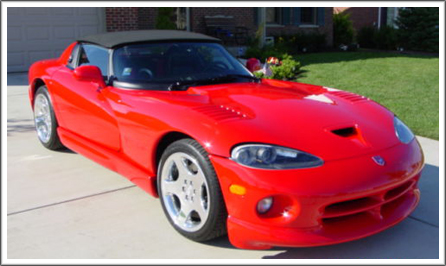 Dodge Viper Key Features:
Quality: Made to Dodge specs, 100% fit guarantee.
Original Configuration: Targa top
Original Factory Material: Haartz Stayfast Canvas
Original Window: NA
Original Colors: Black
Alternate Materials: NA
Package Specials: Cost savings for all of your installation needs with

package specials

, this can include the detailed manual, new cables, pads/webbing, tack strips and glue kit.

Shop with confidence:

5 year manufacturer warranty.
Shop



Have a question?
Talk to us!
---
Important Information
Original Factory Color(s):
Black
Haartz Stayfast Canvas
has a canvas outer layer and a preshrunk cotton inner layer. The two are bonded with and separated by a butyl rubber core. It is this core that makes the fabric last a very long time, with both better static and dynamic wear ratings than vinyl toppings. Haartz Stayfast is the American substitute for the German canvases used in Mercedes, Porsche, BMW, some models of Mustang and Lebaron and others. Canvas is widely regarded as "richer looking" than vinyl. It is a little harder to clean. The inside of the top is pre-shrunk cotton. The inner lining is usually black.
Parts in this category (Dodge Viper) fit cars for years: 1992, 1993, 1994, 1995 and 1996.
We a now pleased to offer hydraulic cylinders, hydraulic motor pumps, and hydraulic hose sets for many different convertibles, they will be listed on your cars page if available. Also, checkout our newly added roof rail weatherstripping seals, front header weatherstripping seals, door weatherstripping seals, trunk weatherstripping seals. Look for extra savings on weatherstripping seals kits.

We are continuing to grow our convertible related products: These include convertible top latches, tonneau covers, relays, switches, rear tacking rails (trimsticks), seat covers, car covers, and carpeting.