Chevrolet Corvette, 1968-75
Convertible Top and Convertible Top Parts

Key Features:
Quality: Made to Chevrolet specs, 100% fit guarantee.
Original Factory Material: Haartz Pinpoint Vinyl with reverse heat-sealed plastic window. Raised embossing around window, as original for vinyl. Stayfast tops come with sewn-in window only.
Original Window: Heat sealed plastic window. Dealer Stamp Available for Rear Window Available.
Original Colors: Black, GM White and Tan.
Alternate Materials: Haartz Stayfast Canvas and Chrysler Sailcloth Vinyl.
Package Specials: Cost savings for all of your installation needs with package specials, this includes the detailed manual, new cables, front and rear tack strips and glue kit.
Shop with confidence: 5 year manufacturer warranty.
Shop



Have a question?
Talk to us!
---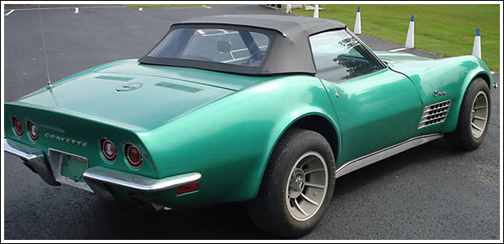 Important Information
Original Factory Color(s):
Black, GM White and Tan
Fabrics:
The original dealer soft tops on Corvettes of this period was Haartz pinpoint vinyl. Later Corvettes featured canvas tops and Chrysler Sailcloth vinyl tops, the tops are made with the installation straps.
Chrysler Sailcloth Vinyl is a two ply composite made of a PVC sailcloth grain outer layer and a polyester/cotton lining fabric. It is the fabric developed for Sebrings and late model Mustangs several years ago. It is a vinyl whose surface grain emulates canvas. It is a less expensive, though beautiful, fabric than our canvas toppings. We therefore offer many of our originally canvas tops in this vinyl fabric.
Haartz Pinpoint Vinyl's design is original to most American cars from the fifties to the nineties. Pinpoint refers to the little dots or pips that you see if you look closely at the vinyl surface. European cars, such as the old Beetles and others also used pinpoint vinyl as the topping fabric.
Haartz Stayfast Canvas has a canvas outer layer and a preshrunk cotton inner layer. The two are bonded with and separated by a butyl rubber core. It is this core that makes the fabric last a very long time, with both better static and dynamic wear ratings than vinyl toppings. Haartz Stayfast is the American substitute for the German canvases used in Mercedes, Porsche, BMW, some models of Mustang and Lebaron and others. Canvas is widely regarded as "richer looking" than vinyl. It is a little harder to clean. The inside of the top is pre-shrunk cotton. The inner lining is usually black.
Original Windows:
The original rear windows were plastic. The plastic windows we employ are always of the heaviest gauge plastic available.
Hold Down Cables:
Special cables install at the sides. Each cable is installed into a pocket along the inside of the top. Cables hold the top to the frame along the side windows. We offer original configuration Corvette hold down cables.
Tack Strips:
Staples are used to attach the top at the header bow and rear top bow. These are driven into embedded tacking strips which are attached to the bows.
Top pads:
The top is supported along its sides with special webbing.
Installation:
This top installs with staples (must be stainless steel) and glue (either contact cement or slower setting neoprene cement.) If you are comfortable renting and using an air driven staple gun then you are a good candidate for do-it-yourself installation.
We have the 68-75 top install manual which should offer very good guidance for installation of this similar top, along with notes taken during the removal of the old top.
Parts in this category (Chevrolet Corvette) fit cars for years: 1968, 1969, 1970, 1971, 1972, 1973, 1974 and 1975.
We a now pleased to offer hydraulic cylinders, hydraulic motor pumps, and hydraulic hose sets for many different convertibles, they will be listed on your cars page if available. Also, checkout our newly added roof rail weatherstripping seals, front header weatherstripping seals, door weatherstripping seals, trunk weatherstripping seals. Look for extra savings on weatherstripping seals kits.

We are continuing to grow our convertible related products: These include convertible top latches, tonneau covers, relays, switches, rear tacking rails (trimsticks), seat covers, car covers, and carpeting.