Take 10% off on your ENTIRE PURCHASE
when you enter coupon
HOLIDAY2017
into your cart!
Some exclusions apply.
Ford Thunderbird, 1955-57
Convertible Top and Convertible Top Parts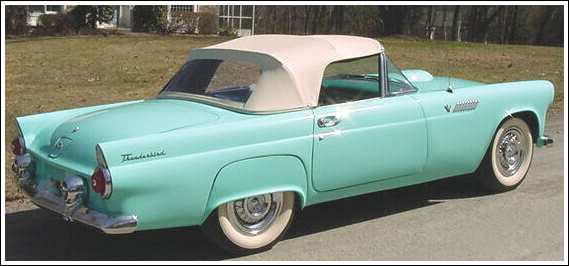 Ford Thunderbird Key Features:
Quality: Made to Ford specs, 100% fit guarantee.
Original Configuration: Two piece top, top section and window section
Original Factory Material: Haartz pinpoint vinyl
Original Window: Plastic window.
Original Colors: Black and White
Alternate Materials: Haartz stayfast canvas
Package Specials: Cost savings for all of your installation needs with

package specials

, this can include the detailed manual, new cables, pads/webbing, tack strips and glue kit.

Shop with confidence:

5 year manufacturer warranty.
Can I install this top myself?
Preview our Convertible Top Installation Guide
Shop



Have a question?
Talk to us!
---
---
Important Information
Original Factory Color(s):
Black and White
Plastic Window: The 1955 Thunderbird plastic window is made with a horse-shoe zipper and exposed trim at the base of the window. The 1956-57 Thunderbird has a straight zipper and exposed trim. Give us a call if your configuration is different.
Orginal Configuration: The original topping in these cars was Haartz stayfast canvas. We also offer the Haartz pinpoint vinyl.
Original Window:The top is available with a plastic rear window, all have exposed trim at the base of the window. The 1955 Ford Thunderbird had a horse-shoe zipper. The 1956-57 Thunderbird had a "regular" zipper, please specify if you want this in the checkout message box.
This is a classic "two part top." the main top and the rear window section are joined at the rear top cross bow. Our tops include molding to hide the attachment staples.
The plastic rear window is zippered. The zipper is a horseshoe zipper that allows complete opening of the window. This is the new industry standard and allows easier opening of the back window than the old fashioned straight zipper.
Padding sets and top bow tacking strips should last through two tops. These are offered as accessories. In this top there are three tacking strips: at the front bow. The rear top bow and at the rear baseline. Top pads include the long pads and the quarter pads.
Can i install this top myself?
this top is one of the "classic american two part tops."
excellent instructions on installing these two part tops are contained
in the well written and illustrated chapter on top installation in the book:
"automotive upholstery handbook" by taylor.
you may purchase this book by going to our home page and selecting
"book on auto upholstery" from the product list.
we do offer these instructions tailored specifically for the thunderbird
in a separate brochure if you purchase a new top.
no sewing, or minimal sewing, is required in the installation.
stapling and glueing (contact) cement work is required
Parts in this category (Ford Thunderbird) fit cars for years: 1955, 1956 and 1957.
We a now pleased to offer hydraulic cylinders, hydraulic motor pumps, and hydraulic hose sets for many different convertibles, they will be listed on your cars page if available. Also, checkout our newly added roof rail weatherstripping seals, front header weatherstripping seals, door weatherstripping seals, trunk weatherstripping seals. Look for extra savings on weatherstripping seals kits.

We are continuing to grow our convertible related products: These include convertible top latches, tonneau covers, relays, switches, rear tacking rails (trimsticks), seat covers, car covers, and carpeting.