Take 10% off on your ENTIRE PURCHASE
when you enter coupon
HOLIDAY2017
into your cart!
Some exclusions apply.
Chevrolet Chevelle & Malibu, 1968-72
Convertible Top and Convertible Top Parts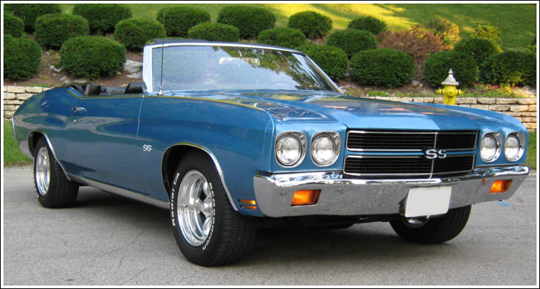 Chevrolet Chevelle & Malibu Key Features:
Quality: Made to Chevrolet specs, 100% fit guarantee.
Original Configuration: Two piece top, top section and window section
Original Factory Material: Haartz Pinpoint Vinyl
Original Window: Plastic window
Original Colors: Black and GM White
Alternate Materials: Haartz stayfast canvas
Package Specials: Cost savings for all of your installation needs with

package specials

, this can include the detailed manual, new cables, pads/webbing, tack strips and glue kit.

Shop with confidence:

5 year manufacturer warranty.

Hydraulic Components:

Hydraulic cylinders, motor pumps and hose sets all available and in stock.
Can I install this top myself?
Preview our Convertible Top Installation Guide
Shop



Have a question?
Talk to us!
---
---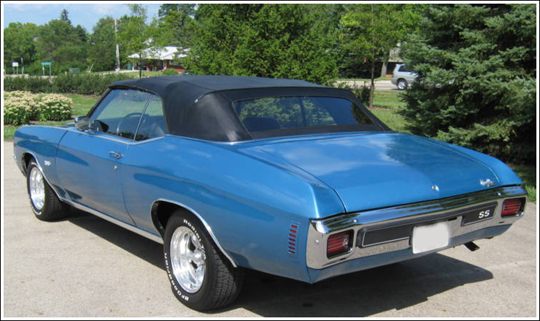 Important Information
Original Factory Color(s):
Black and GM White
Original Patterns: Our Chevrolet Malibu and Chevelle convertible tops are made from original dealer patterns. These two Chevrolets take the same top. We offer the replacement tops in original pinpoint vinyl fabric.
Installation: This is a classic two part top. You can read a thorough summary of the construction and installation of this top via the link at the bottom of this page. If you are confident renting and using an air driven staple gun then you are a good candidate for do-it-yourself installation. The full illustrated, step by step, manual for installing these 1968-72 Chevrolet tops is available. It is included in our package specials.
The Two Top Sections Available Separately: If you wish to replace only the window section, or only the main top, the two parts are separately available. For a complete top without any of the restoration parts in our packages please order both the main top and the rear window section.
Hold Down Cables: A pair of cables, one on each side, thread through pocketed hems on the main top sides. The ends of the cables hold the top to the frame. New cables are recommended with each new top. (You can read about cables in the installation summary link.)
Tacking strips: Much of the installation involves tacking or stapling (there is no sewing involved.) Tacking into the bow over the windshield (header bow) and into the bow over the rear window (rear top bow) is done into special strips embedded in these frame bows. We offer new tack strips for the front and rear top bows.
Top pads: Top padding "builds out" the top. Pads can last through two tops but should be replaced if of suspect condition.
Top Boots: You have the option of using a top storage boot. Our boot fits, as original. If any of the boot clips need replacement you must order new clips (see "Accessories.")
We have listed the most popular tops and package configurations.
If you wish us to customize a top, or a package
please contact us at
support@mtmfg.com
Thank you.
Parts in this category (Chevrolet Chevelle & Malibu) fit cars for years: 1968, 1969, 1970, 1971 and 1972.
We a now pleased to offer hydraulic cylinders, hydraulic motor pumps, and hydraulic hose sets for many different convertibles, they will be listed on your cars page if available. Also, checkout our newly added roof rail weatherstripping seals, front header weatherstripping seals, door weatherstripping seals, trunk weatherstripping seals. Look for extra savings on weatherstripping seals kits.

We are continuing to grow our convertible related products: These include convertible top latches, tonneau covers, relays, switches, rear tacking rails (trimsticks), seat covers, car covers, and carpeting.