Ford Mustang, 1967-68
Convertible Top and Convertible Top Parts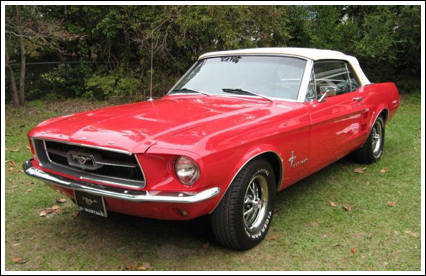 Ford Mustang Key Features:
Quality: Made to Ford specs, 100% fit guarantee.
Original Configuration: Two piece top, top section and window section
Original Factory Material: Haartz Pinpoint Vinyl
Original Window: Plastic window.
Original Colors: Black, Ford White and Ford Blue
Alternate Materials: Haartz Stayfast canvas
Package Specials: Cost savings for all of your installation needs with

package specials

, this can include the detailed manual, new cables, pads/webbing, tack strips and glue kit.

Shop with confidence:

5 year manufacturer warranty.

Hydraulic Components:

Hydraulic cylinders, motor pumps and hose sets all available and in stock.
Can I install this top myself?
Preview our Convertible Top Installation Guide
Shop



Have a question?
Talk to us!
---
---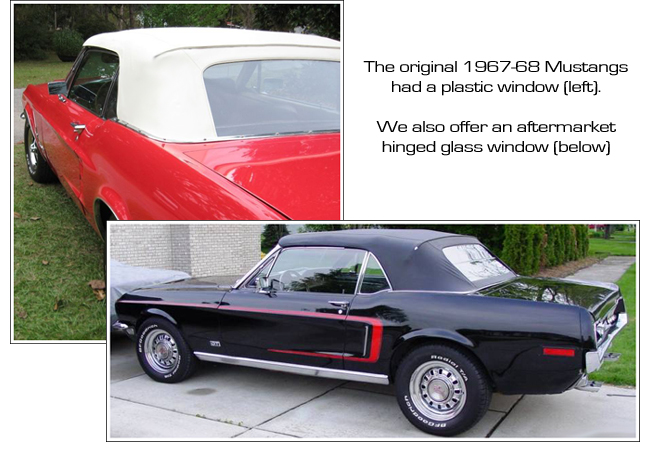 Important Information
Original Factory Color(s):
Black, Ford White and Ford Blue
Classic Two Part Top:
This is a classic two part convertible top. The main top and the rear window section are integrated during installation. You can read all about how this is done at the link below to a summary of our two part top installation manual.
The summary posted here, or the complete manual will allow you to make an intelligent decision about self installation.
For these Mustangs we also have a detailed illustrated top installation manual specifically for the classic Mustang. It is available only with a purchase of a new top; this manual is included in our top special packages.
If you are comfortable renting and using an air driven staple gun then you are a good candidate for do-it-yourself installation. There is stapling (with stainless steel staples) and glue work. There is no sewing.
Fabrics:
These tops are available in Haartz Pinpoint vinyl, Haartz Stayfast canvas or in Eurotopping. Eurotopping is identical to Haartz pinpoint vinyl in appearance. However it is constructed with a butyl rubber central layer (between the outer vinyl and the inner cloth) that makes it extremely durable. This butyl rubber core is also characteristic of Haartz Stayfast canvas.
Original Color(s): Black, Ford White, and Ford Blue
Rear Window:
The original rear window is plastic. We use the highest grade 'Regalite' automotive window plastic in our tops.
There is an aftermarket rear window available in glass. It is a hinged glass, shown in the picture at the top of this page.
Hold down cables:
Cables are installed in the side pockets of the top and hold the top to the top frame at the sides. More on this is in the install link below. New cables are recommended with each top.
Tack strips:
Tack strips are embedded in the front and rear top bows and receive the tacks or staples that fasten the top. Tack strips usually last through two tops. Replacement strips are available (See "accessories.")
The rear bottom of the top is stapled or tacked to a belt line tacking form. This consists of three separate pieces which, collectively, are called 'the trim stick.' Trim sticks can usually be repaired by splicing new tacking material.
Top Pads:
Pads are nylon reinforced webbing that install under the top, front to rear, along the sides. They "build out" the top. Pads usually last through two tops. They are also available here, at "accessories."
Boots:
The original Mustang boots were usually Sierra vinyl leather grained boot swatches that you can view. Just click on the "check out boot fabrics" and you will see the choice of boot vinyls. Please jot down your choice. You can specify it in the checkout message box.
Boots are custom made from original boot patterns. Please allow up to three weeks for a boot to be made and shipped.
Interior Restoration Book:
We've listed a book by Art Trantafello uder 'accessories.' It is an extremely well written and illustrated book on all aspects of upholstery work. It includes a great chapter on installing the top..
Hydraulics:
We now stock hydraulic cylinders, motor-pumps, and hoses for your convertible tops. All are made to OEM specifications. Each can be ordered separately; however, when ordering hydraulic cylinders we recommend replacing both. The chances are that both cylinders were manufactured at the same time: if one is on its way out the other may follow. If the top is raised and one hydraulic cylinder is working harder than the other the result over time can lead to a slightly bent convertible top frame. The replacement of both will ensure that the top raises and lowers symmetrically.
Systems for this car take Automatic Transmission Fluid (ATF) and have a 5 year warranty when used with this fluid. Brake fluid should not be used as it voids the warranty. We also offer an installation manual when ordered.
The 12 volt motor-pumps include a mounting bracket with rubber grommets to reduce vibration. . We also offer a rebuilding service for motor-pumps. Not all are repairable, but it is less expensive to have one rebuilt than to buy a new one. The motor-pump would need to be sent to us for evaluation. Hoses come with all new fittings and are made specifically to fit your car.
Parts in this category (Ford Mustang) fit cars for years: 1967 and 1968.
We a now pleased to offer hydraulic cylinders, hydraulic motor pumps, and hydraulic hose sets for many different convertibles, they will be listed on your cars page if available. Also, checkout our newly added roof rail weatherstripping seals, front header weatherstripping seals, door weatherstripping seals, trunk weatherstripping seals. Look for extra savings on weatherstripping seals kits.

We are continuing to grow our convertible related products: These include convertible top latches, tonneau covers, relays, switches, rear tacking rails (trimsticks), seat covers, car covers, and carpeting.