MG Midget MK II, 1965-66
Convertible Top and Convertible Top Parts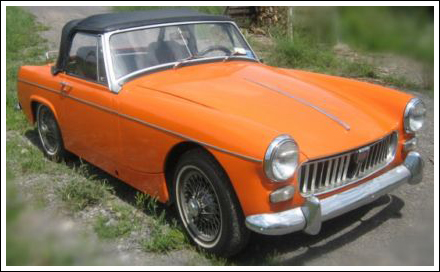 MG Midget MK II Key Features:
Quality: Made to MG specs, 100% fit guarantee.
Original Configuration: One piece top, plastic window sewn in or heat sealed
Original Factory Material: British Everflex Vinyl
Original Window: Plastic window.
Original Colors: Black
Alternate Materials: British Bison (Colonial Grain) Vinyl, Haartz Stayfast Canvas
Package Specials: Cost savings for all of your installation needs with

package specials

, this can include the detailed manual, new cables, pads/webbing, tack strips and glue kit.

Shop with confidence:

5 year manufacturer warranty.
Shop



Have a question?
Talk to us!
---
---
Important Information
Original Factory Color(s):
Black
About E-Z ON
Based on its rapid expansion in the past decade, E-Z ON Auto Tops, Inc. has been recognized as the world's fastest-growing manufacturer of replacement tops for both domestic and import cars. Since its founding in 1989, E-Z ON Auto Tops has flourished through providing customers with the highest quality customer service as well as excellent fitting tops at very competitive prices. Dollar for dollar, E-Z ON's convertible tops have been proven to be the industry's best value.
In addition to ongoing expansion of its own primary product line, E-Z ON has fueled growth through acquiring the resources of other respected firms. One recent example is bringing aboard and expanding our import car line to include Alfa Romeo, Austin Healy, Fiat, Jensen Healy, MG Series, and Triumph Series tops, all developed by Amco, a 50-plus year manufacturer of convertible tops.
Now armed with precision patterns and state-of-the-art equipment, E-Z ON Auto Tops, Inc. enters the new millennium as the best source for virtually every application, domestic and import car.
About Robbins Auto Top Company: Since 1943, Robbins Auto Top Company has been committed to providing only the highest quality products and service to their customers. Their goal is simple: Customer Satisfaction. Through innovation, continuous improvement of manufacturing processes, and a highly skilled work force, they offer the highest quality products and level of service possible. Distinctive styling, fine custom workmanship and attention to detail are all benchmarks of Robbins Auto Top Company. When you want the best...Go Robbins.
Identification:
In 1964 the MG Midget finally gained roll up windows and exterior door handles!
(In earlier Midgets the windows were removable.) Also in these Midgets the top
fastens to a removable frame (which needs to be removed in order to attach the top.)
If your frame is bolted on permanently then it is a later Midget.
Fabrics:

British Everflex Vinyl: We are now pleased to offer British Everflex Vinyl for classic English tops. This is the original material used on British convertibles including Jaguar, Rolls Royce and many others. Imported from England, British Everflex vinyl is a supple vinyl with a rich appearance and is more durable than other vinyls. A good, less expensive alternative is Colonial grain vinyl. Colonial has the same texture but is less durable.
British Bison (also called Colonial Grain) is the American made crush grain vinyl that imitates the much more expensive British Everflex vinyl original to many British convertibles. These are often referred to as 'crush grain' or 'leather grain' vinyls. They are structurally equivalent (wear rating) to the pinpoint, cabrio, and sailcloth vinyls.
Haartz Stayfast Canvas has a canvas outer layer and a preshrunk cotton inner layer. The two are bonded with and separated by a butyl rubber core. It is this core that makes the fabric last a very long time, with both better static and dynamic wear ratings than vinyl toppings. Haartz Stayfast is the American substitute for the German canvases used in Mercedes, Porsche, BMW, some models of Mustang and Lebaron and others. Canvas is widely regarded as "richer looking" than vinyl. It is a little harder to clean. The inside of the top is pre-shrunk cotton. The inner lining is usually black.
Parts in this category (MG Midget MK II) fit cars for years: 1965 and 1966.
We a now pleased to offer hydraulic cylinders, hydraulic motor pumps, and hydraulic hose sets for many different convertibles, they will be listed on your cars page if available. Also, checkout our newly added roof rail weatherstripping seals, front header weatherstripping seals, door weatherstripping seals, trunk weatherstripping seals. Look for extra savings on weatherstripping seals kits.

We are continuing to grow our convertible related products: These include convertible top latches, tonneau covers, relays, switches, rear tacking rails (trimsticks), seat covers, car covers, and carpeting.