Morris Minor 1000, 1957-69
Convertible Top and Convertible Top Parts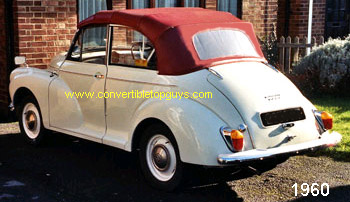 Morris Minor 1000 Key Features:
Quality: Made to Morris specs, 100% fit guarantee.
Original Configuration: One piece top, plastic window sewn in or heat sealed
Original Factory Material: British Everflex Vinyl
Original Window: Plastic window
Original Colors: Black
Alternate Materials: Haartz Stayfast Canvas, Crush Grain Vinyl

Shop with confidence:

6 year manufacturer warranty. Made by Robbins.
Shop



Have a question?
Talk to us!
---
Important Information
Original Factory Color(s):
Black
Fabrics:
We are offering this top, made from original patterns, in American crush grain vinyl. This is a domestic leather grained fabric quite like the original British Everflex vinyl. It is available in black or white.
A greater color selection is available for the same top made in classic Haartz pinpoint vinyl. The two fabrics are structurally equivalent, differing only in their surface texture.
Original Patterns:
These tops are made to order. Patterns are made using computer directed cutting from stored data taken from an original Morris Minor top.
These tops are made to order and will be shipped directly from the factory in, an average of, two weeks.
Window:
This top is made with an integral plastic rear window as original.
Snaps:
Snaps are supplied. Installation requires the transfer of snap locations to the top and their application to the fabric.
Ordering from outside U. S. or Canada:
Shipment is available worldwide. If you are located outside of the United States we ask that you submit all information and proceed to checkout. No financial transaction will be sought or completed until after we respond with an email detailing shipment and payment information.
Parts in this category (Morris Minor 1000) fit cars for years: 1957, 1958, 1959, 1960, 1961, 1962, 1963, 1964, 1965, 1966, 1967, 1968 and 1969.
We a now pleased to offer hydraulic cylinders, hydraulic motor pumps, and hydraulic hose sets for many different convertibles, they will be listed on your cars page if available. Also, checkout our newly added roof rail weatherstripping seals, front header weatherstripping seals, door weatherstripping seals, trunk weatherstripping seals. Look for extra savings on weatherstripping seals kits.

We are continuing to grow our convertible related products: These include convertible top latches, tonneau covers, relays, switches, rear tacking rails (trimsticks), seat covers, car covers, and carpeting.