Willys Jeepster, 1948-52
Convertible Top and Convertible Top Parts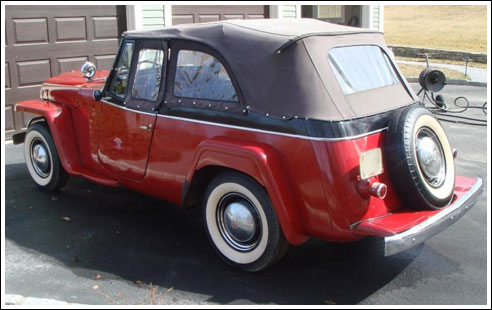 Willys Jeepster Key Features:
Quality: Made to Willys' specs, 100% fit guarantee.
Original Configuration: Two piece top, top section and window section
Original Factory Material: Haartz Stayfast Canvas
Original Window: Plastic window.
Original Colors: Black, Tan and Light Neutral
Alternate Materials: Haartz Pinpoint Vinyl
Package Specials: Cost savings for all of your installation needs with

package specials

, this can include the detailed manual, new cables, pads/webbing, tack strips and glue kit.

Shop with confidence:

5 year manufacturer warranty.
Shop



Have a question?
Talk to us!
---
---
Important Information
Original Factory Color(s):
Black, Tan and Light Neutral
Original Patterns:
The patterns for this top are original patterns obtained many years ago. These are not 'copies of copies.'
Sections are cut using computer directed machinery and bonded to create the new top which is made to order.
Fabrics:
The original topping was canvas. Modern Haartz Stayfast canvas tops are offered, as well as the less expensive vinyl top.
Curtains:
'Curtain' is the trade name for the window with its attached trim fabric. Please note the years of side curtains as small changes were made in their configuration.
There are two pair of side curtains in a set. There is one, zippered, rear curtain.
The rear curtain installs, as originally, under the main top, attached above and below with staples. The molding above the rear window, which hides the upper staples, is visible in the picture. We supply the rear tack strip which accepts the staples.
Pads:
The pads are foam, encased in protective vinyl. They install under the top to build it out.
Boots:
We offer top boots in modern leather grained boot vinyl. This is much preferred compared with topping fabrics as the boot vinyl has a slight elasticity and gives much easier use to the storage boot.
The boot installs as original, using 35 snaps. Snaps are included along with a snap install tool kit.
Seat Covers:
We also have pleated, and unpleated, seat covers made from original seat patterns.
Seat cover sets include the '70/30' front section, the rear bench seat covers and the rear arm rest covers. These are not slip covers, but are original replacement covers that install over your seat frame and padding.
Parts in this category (Willys Jeepster) fit cars for years: 1948, 1949, 1950, 1951 and 1952.
We a now pleased to offer hydraulic cylinders, hydraulic motor pumps, and hydraulic hose sets for many different convertibles, they will be listed on your cars page if available. Also, checkout our newly added roof rail weatherstripping seals, front header weatherstripping seals, door weatherstripping seals, trunk weatherstripping seals. Look for extra savings on weatherstripping seals kits.

We are continuing to grow our convertible related products: These include convertible top latches, tonneau covers, relays, switches, rear tacking rails (trimsticks), seat covers, car covers, and carpeting.