Mazda Miata and Miata MX-5 Shinsen, "Easy Install", One Piece Convertible Tops, 1999-05
Convertible Top and Convertible Top Parts
Mazda Miata, "Easy Install", One-Piece Convertible Top
What's an Easy Install Miata Top?
Key Features:
Quality: Made to Mazda specs, 100% fit guarantee.
Original Configuration: Two pieces: top and window
Original Factory Material: Cabrio vinyl
Original Window: Plastic or glass window.
Original Colors: Black & Mazda Tan
Alternate Materials: Haartz Stayfast Canvas
Package Specials: Our Best Buy Miata convertible top packages include a top and everything you need it install it! You get hold down cables, professional-grade contact cement, and a profusely illustrated convertible top manual, which walks you through your Miata top installation, beginning to end.

Shop with confidence:

5 year manufacturer warranty.
Shop



Have a question?
Talk to us!
---
---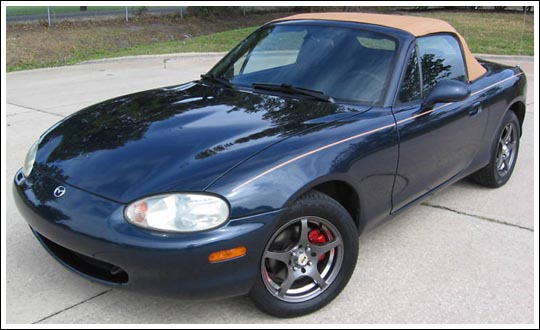 Important Information
Original Factory Color(s):
Black, Mazda Tan and Light Tan
Why do I want a Mazda Miata Easy Install Convertible Top?
Our "Easy Install" Miata tops take the usual do-it-yourself installation and make it much easier! We have written a very detailed illustrated do-it-yourself installation manual to take you through your own Miata top installation.
These tops have been designed to facilitate easy installation without compromising the integrity and the durability of the completed top.
We have eliminated the zipper, used to open the dealer and dealer-replica tops. We have provided a sealed-in window, which comes in plastic or glass. The top can be lowered without the need to manage a zipper above the window. We have also simplified the attachment of the top at the rear pillars (the area behind the side windows).
This design had been extensively field tested, through hundreds of tops that we have sold over the years. We've incorporated tweaks, based on our field experience. The result is an economical, easy-to-install convertible top that will give years of use.
There is no stapling or sewing involved in the installation of this top. Some contact cement work is required. Bolts must be installed, a couple of screws and also either aluminum pop rivets or sheet metal screws at the rear pillars. Velcro attachment in selected areas further simplifies matters. New cables must be riveted in place with a pair of aluminum pop rivets. Our manual even has a tutorial on applying pop rivets. All steps are covered in the profusely illustrated installation manual.
Do I Need New Hold Down Cables?
We strongly recommend using a pair of new hold down cables with stainless-steel end plates. These replace the old plastic tab plates. For the most savings, consider one of our package specials, which include the top (in your choice of fabric), a pair of cables, a half pint of trimmer contact cement, and the installation manual.
How do I choose a Mazda Miata Convertible Top Fabric?
Mazda Miata convertible tops are offered in two fabrics: Cabrio Grain Vinyl and Haartz Stayfast Canvas. Here's what you need to know about each one:
Cabrio Grain Vinyl: Our most popular Miata top is the original Cabrio Vinyl, which comes in original Mazda Miata convertible top colors. Cabrio Grain Vinyl is a two-ply composite vinyl with a distinct pigskin outer grain and cotton inner lining. This reliable vinyl is original to the Mazda Miata, the Mercury Capri, and the Volkswagen Cabriolet and comes with a 5-year manufacturer warranty.
Haartz Stayfast Canvas: If you're looking to upgrade your vinyl top, consider a Mazda Miata convertible top made of Haartz Stayfast Canvas. This fabric is the American substitute for the German canvases used in Mercedes, Porsche, and BMW. Haartz Stayfast Canvas is a three-ply composite made of an acrylic square weave outer fabric, a butyl rubber core, and a cotton lining. The butyl rubber core promises to make Haartz Stayfast Canvas last a very long time. This canvas Mazda Miata top is a little richer looking than the vinyl. It's also a little harder to clean. Stayfast Canvas has both better static and dynamic wear ratings than Miata vinyl tops.
Do I need new rain rails if I'm replacing my top?
The rain rail, or gutter, at the base of the top guides water into drains at the base of the rear wheels. A new rain rail is required in a top replacement only when the current one is damaged. Most often, you can clean off your original rain rail and apply it to your new top.
Keep in mind, the rain rail was originally riveted to the base of the top to facilitate transporting. It is not necessary to rivet the rain rail to the new top as this serves no functional purpose! So, if you need a new rain rail, it's easiest to purchase it separately.
Typically, a factory rain rail will last through three or more tops. We offer durable rain rail replacements, as well as an Economy Rain Rail, which functions as well, but is lighter duty. It's made of thinner vinyl with baseline reinforcement plastic. It should last for two tops. Click here to start shopping.
What do other Mazda Miata owners say about Convertible Top Guys?
Just a quick note saying "thanks" for a great product. I received my Miata top earlier this week and installed it today. Took me about 7 hours but I've got a super looking top that fits like a glove. Your instructions are not only very accurate, but supportive in the little details, like keeping hands clean with a light colored top (mine is tan) and using the fork for the clips. I was able to reuse every clip I removed. The construction and material look to be very durable. I'll recommend your company to my other Miata friends.
Ted M., Lenoir, NC
Your roof arrived, and I have installed it. Awesome product, everything you said it was. Very happy with the finished product. Looks great.
Chris E., Burlington, Ont. Canada
Parts in this category (Mazda Miata and Miata MX-5 Shinsen, "Easy Install", One Piece Convertible Tops) fit cars for years: 1999, 2000, 2001, 2002, 2003, 2004 and 2005.
We a now pleased to offer hydraulic cylinders, hydraulic motor pumps, and hydraulic hose sets for many different convertibles, they will be listed on your cars page if available. Also, checkout our newly added roof rail weatherstripping seals, front header weatherstripping seals, door weatherstripping seals, trunk weatherstripping seals. Look for extra savings on weatherstripping seals kits.

We are continuing to grow our convertible related products: These include convertible top latches, tonneau covers, relays, switches, rear tacking rails (trimsticks), seat covers, car covers, and carpeting.