BMW 3 Series Power Tops, 1987-93
Convertible Top and Convertible Top Parts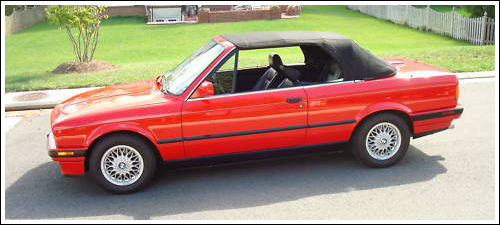 These include the E30 chassis 2 door convertibles: 325i, 318i, and 320i
Key Features:
Quality: Made to BMW specs, 100% fit guarantee.
Original Factory Material: German Sonnenland Canvas
Original Window: Heat sealed, green tinted window.
Original Colors: Black, Blue, Brown and Pearl Beige
Alternate Materials: Sonnendeck (Twillfast) canvas, Haartz Stayfast Canvas, Haartz Pinpoint Vinyl.
Package Specials: Cost savings for all of your installation needs with package specials, this includes the new tension straps, new cables and glue.
Shop with confidence: 5 year manufacturer warranty.
NEW:1987-93 BMW 3 Series, 20 page convertible top removal and installation manual with images.
NEW: 1987-93 BMW E30 Series, Convertible top wind deflectors, decrease back draft by 75%!
Can I Install This Top Myself ? We believe that the installation is within the capabilities of a handy, patient owner. There is neither sewing nor stapling. The top is one piece. Seals are pried loose and reinstalled after the new top. Seal retainers are unscrewed and reapplied. The top is held to the frame via contact cement with various flaps, etc. needing to be aligned and glued to their proper locations. (Pop rivets may be required if webbing needs replacing.)
Shop



Have a question?
Talk to us!
---
Important Information
Original Factory Color(s):
Black, Blue, Brown and Pearl Beige
---
I just finished replacing the top on my 1991 BMW 318ic and despite my best efforts, it came out great! Amazing! Your product was made of far superior materials than my old top and the cut and finish are exceptional. Your customer service was also way above average, with prompt responses to all of my questions.
Thank you for all of your efforts.
S.M.
1991 BMW 318ic
Roseville CA
---
About Germanex:
Established in 1987, Germanex Imports Inc has fast become one of the industry's leading manufacturers of auto interiors and convertible tops. Satisfying clients has always been their priority and they art constantly looking for ways to exceed industry standards. Employing highly skilled artisans, they combine old fashioned craftsmanship with state of the are technology and the latest equipments to produce quality merchandise second to none.
Power and Manual Tops:
There is a slight difference between the tops designed for power frames and manual frames. The tops on this page are for power tops. If yours is a manually operated frame please re-select your car.
Original Patterns:
These tops are made by replicating original dealer tops and are not copies of copies. The large, green tinted, plastic rear window is part of the top.
Original and Subsitute Fabrics:
The original topping was German Sonnenland canvas. We also offer Sonnendeck (Twillfast) Canvas, Stayfast Canvas, and Haartz Pinpoint Vinyl.
About the Fabrics:
German Sonnenland Canvas is the original German made canvas used in many Mercedes, Porsche, BMW and other convertibles. It's general construction is very similar to the other two canvases. It is hard to tell the surfaces apart among the three. But the manufacturing specifications make this the longest lasting top. There is an approximate twenty percent greater wear rating for Sonnenland than for Haartz Stayfast. Some of this is due to the abrasion resistance of the exterior canvas. This is a factor in certain tops where the framework design tends to produce friction between the top's surface and the car's hardware. (It is a well known 'trade secret' that the Haartz Division of Glen Raven Mills purchased the Sonnenland factory.)
Sonnendeck Canvas (also called 'Twillfast') is an American made canvas, true double texture topping like the Haartz Stayfast. Many purists who own Mercedes and other German cars want to see the particular German weave (that is called "dobby weave") when they look up inside the car. Haartz Stayfast canvas has a plain (unwoven) inner lining. So for Porsche, Mercedes and BMW owners who will spend a little more in order to see that "dobby" weave we offer a fabric called Sonnendeck (in addition to the original German Sonnenland or Happich canvas. The wear rating of Sonnendeck is also greater than for Haartz, by perhaps 10%. This is due to the slightly heavier inner lining and subtle bonding specification differences.
Haartz Stayfast Canvas has a canvas outer layer and a preshrunk cotton inner layer. The two are bonded with and separated by a butyl rubber core. It is this core that makes the fabric last a very long time, with both better static and dynamic wear ratings than vinyl toppings. Haartz Stayfast is the American substitute for the German canvases used in Mercedes, Porsche, BMW, some models of Mustang and Lebaron and others. Canvas is widely regarded as "richer looking" than vinyl. It is a little harder to clean. The inside of the top is pre-shrunk cotton. The inner lining is usually black.
Haartz Pinpoint Vinyl's design is original to most American cars from the fifties to the nineties. Pinpoint refers to the little dots or pips that you see if you look closely at the vinyl surface. European cars, such as the old Beetles and others also used pinpoint vinyl as the topping fabric.
Top Parts:
The front seal and its metal retaining bar can usually be transferred from the old top to the new one. In the event that you require either of these parts, we list them under "accessories."
Headliners:
The headliner is not an original dealer part. Our manufacturer has designed a 'retro-fit' headliner. The headliner is the interior roof covering. It is sold separately from the top and listed under accessories. Please jot down your fabric choice if you wish to order a headliner. Specify it in the checkout message box.
Parts in this category (BMW 3 Series Power Tops) fit cars for years: 1987, 1988, 1989, 1990, 1991, 1992 and 1993.
We a now pleased to offer hydraulic cylinders, hydraulic motor pumps, and hydraulic hose sets for many different convertibles, they will be listed on your cars page if available. Also, checkout our newly added roof rail weatherstripping seals, front header weatherstripping seals, door weatherstripping seals, trunk weatherstripping seals. Look for extra savings on weatherstripping seals kits.

We are continuing to grow our convertible related products: These include convertible top latches, tonneau covers, relays, switches, rear tacking rails (trimsticks), seat covers, car covers, and carpeting.