Mitsubishi Eclipse Spyder, 2000-2005
Convertible Top and Convertible Top Parts
Mitsubishi Eclipse Spyder Key Features:
Quality: Made to Mitsubishi Specs, 100% fit guarantee.
Original Factory Material: Haartz Stayfast Canvas.
Original Window: Glass With Defroster Alternate Window: Plastic
Original Colors: Black and Tan.
Alternate Material(s):

Chrysler Sailcloth Vinyl

(a rich vinyl; appearance close to Stayfast canvas, considerably less expensive) and

Premium German Sonnenland Canvas

(a luxurious, top-of-the-line alternative to Stayfast Canvas).
Package Specials: Get a top and do-it-yourself installation essentials for one discounted price: Our Eclipse Best Buy Convertible Top installation packages include an Eclipse top plus new hold down cables (recommended to change with every top), staples and glue kit (including professional- grade contact cement), the required double-sided tape, a rivet gun with 1/8" rivets and a very thorough installation DVD. We also offer the option of including an Arrow T50ACD Electric Stapler with Staples, which eliminates the need for an air gun.
Shop with confidence: 6 year manufacturer warranty.
Shop



Have a question?
Talk to us!
---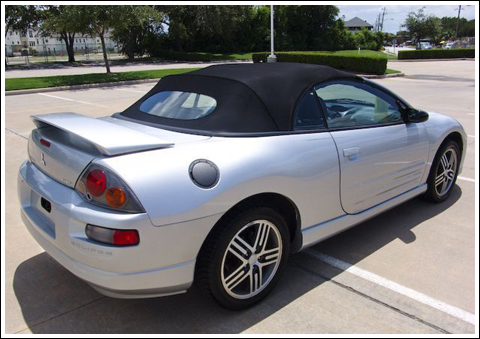 Important Information
Original Factory Color(s):
Black and Tan
Fabrics:
The original Mitsubishi Eclipse convertible top fabric was canvas. Haartz Stayfast canvas, with its butyl rubber core, is the American made canvas topping that will replicate the original fabric.
Savings may be had by switching to a Chrysler Sailcloth vinyl top. This fabric is available in a wide array of colors.
Rear Window:
The defroster glass rear window is electronically sealed into the top as originally.
Plastic Window:We now offer a integral plastic rear window. The top is made with the same quality as the original.
Installation:
An installation manual is included with our Mitsubishi Eclipse convertible top packages. This is an illustrated, step by step, manual specifically for Mitsubishi Eclipse Spyder convertible top installation.
Do-it-yourself installation might be undertaken, using our manual, by a handy person who is confident using an air driven staple gun. and using contact cement.
The top is installed with staples and with contact cement. There is no sewing.
Headliner:
The headliner is the interior roof lining. It can be removed and reused under a new convertible top. A new headliner is available (see "accessories.")
If you are ordering a new headliner for an existing top then you should measure the distance, vertically, from the bottom finished edge of your headliner up to the first seam. This distance is usually 6 1/2 inches. However some aftermarket tops have been modified from the original rear window design causing headliner installation problems. We can have a headliner with a longer seam distance made to accommodate your existing top, if that is necessary. This is not a problem you need to address if you order both the top and the headliner from us: our Eclipse convertible top is made precisely to original specifications.
Headliners are made of black cloth, like the original.
Hold Down Cables:
Cables (one on each side) thread through the cable pockets built into the top. The ends of the cables attach the top at the front frame bow and above the back of the rear window. Cables are not visible after top installation. We recommend new cables with each new top.
Pads and Webbing:
Our packages contain new webbing and tacking strips for under the top.
Parts in this category (Mitsubishi Eclipse Spyder) fit cars for years: 2000, 2001, 2002, 2003, 2004 and 2005.
We a now pleased to offer hydraulic cylinders, hydraulic motor pumps, and hydraulic hose sets for many different convertibles, they will be listed on your cars page if available. Also, checkout our newly added roof rail weatherstripping seals, front header weatherstripping seals, door weatherstripping seals, trunk weatherstripping seals. Look for extra savings on weatherstripping seals kits.

We are continuing to grow our convertible related products: These include convertible top latches, tonneau covers, relays, switches, rear tacking rails (trimsticks), seat covers, car covers, and carpeting.