Saab 900S & 900SE, 1996-98
Convertible Top and Convertible Top Parts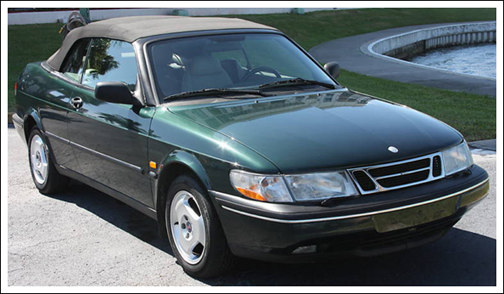 Note: This Top will fit models with last 10 digit of the VIN # T7006412 & UP.
Saab 900S & 900SE Key Features:
Quality: Made to Saab specs, 100% fit guarantee.
Original Configuration: One piece top, plastic window sewn in or heat sealed
Original Factory Material: German Sonnenland Canvas
Original Window: You will re-use your original window.
Original Colors: Black and Blue
Alternate Materials: Sonnendeck (Twillfast) Canvas, Haartz Stayfast Canvas
Package Specials: Cost savings for all of your installation needs with

package specials

, this can include the detailed manual, new cables, pads/webbing, tack strips and glue kit.

Shop with confidence:

5 year manufacturer warranty.
Shop



Have a question?
Talk to us!
---
---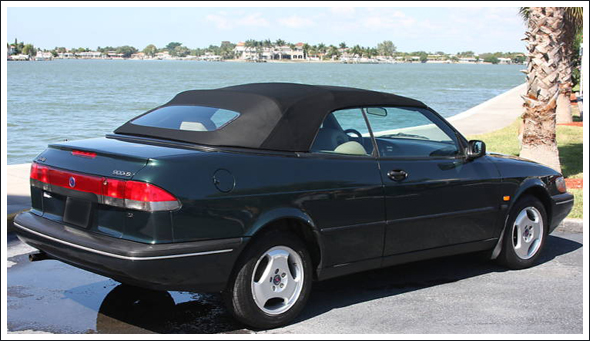 Important Information
Original Factory Color(s):
Black and Blue
Original Top Patterns:
Our tops are made from original Saab (dealer) tops and patterns accurately computerized for proper reproduction.
Original Fabrics:
The original topping fabric was the highest grade German Sonnenland canvas. We offer the Sonnenland canvas replacement top. We also offer the American made Haartz Stayfast canvas top.
Vinyl Tops:
The Chrysler Sailcloth vinyl (original to late Mustangs and Sebrings) is a vinyl with a canvas imitation texture. This is very popular with restorers looking for some savings. We can supply a Chrysler Sailcloth vinyl top for your Saab.
Full descriptions of fabrics can be studied at our "Help" section (see "Help" link at top of page.)
Headliner:
The headliner is the interior roof covering. It can often be re-installed under a new top. Headliners are listed under "accessories." The headliner is a part that is separate from the top. Our headliners are made in black wool brocade cloth just like the original.
Hold Down Cables:
Encased in each side pocket (within the top) is a cable. The front and back of each cable attaches the top to the framework. And the cables tension the top when it is up. New cables are recommended with each new top that has seen typical raising and lowering during its use.
Installation:
Installing involves glue work, fasteners and stapling. There is no sewing. Instructions for do-it-yourself installation are available.
Dealer Warnings:
Saab owners should be aware of top frame design problems resulting in pinching and abrasion to tops. Be very careful raising and lowering your top to minimize such risk.
Saab 9-3 Tops:
In 1998 Saab introduced its 9-3 Models. Those tops are on another page.
Parts in this category (Saab 900S & 900SE) fit cars for years: 1996, 1997 and 1998.
We a now pleased to offer hydraulic cylinders, hydraulic motor pumps, and hydraulic hose sets for many different convertibles, they will be listed on your cars page if available. Also, checkout our newly added roof rail weatherstripping seals, front header weatherstripping seals, door weatherstripping seals, trunk weatherstripping seals. Look for extra savings on weatherstripping seals kits.

We are continuing to grow our convertible related products: These include convertible top latches, tonneau covers, relays, switches, rear tacking rails (trimsticks), seat covers, car covers, and carpeting.