Jaguar XK-120 & XK-140 Drop Head Coupe, 1950-57
Convertible Top and Convertible Top Parts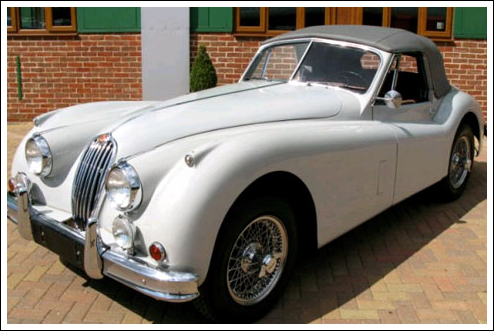 Jaguar XK-120 & XK-140 Drop Head Coupe Key Features:
Quality: Made to Jaguar specs, 100% fit guarantee.
Original Configuration: One piece top, plastic window sewn in or heat sealed
Original Factory Material: Haartz Stayfast Canvas
Original Window: Plastic window
Original Colors: Black and Tan
Alternate Materials: Haartz pinpoint vinyl
Package Specials: Cost savings for all of your installation needs with

package specials

, this can include the detailed manual, new cables, pads/webbing, tack strips and glue kit.

Shop with confidence:

5 year manufacturer warranty.
Shop



Have a question?
Talk to us!
---
Important Information
Original Factory Color(s):
Black and Tan
The tops on this page are for the XK120 and XK140 drop head coupes. These tops are attached, with tacks or staples to numerous wood tacking bows and forms which are affixed to the frame and body.
If your car is a roadster there are tacks only up front, at the windshield. Roadster tops are listed separately. Please be sure yours is a drop head coupe and not the roadster.
Original top fabric was a cotton canvas cloth and pinpoint vinyl.
We are Jaguar specialists. We have offered replacement wood top bows for over thirty years. They are sturdy and fine fitting reproductions of the original tacking wood. Although the 120 and the 140 take identical tops there is some detailing difference on the body and some of the wood bows differ slightly. Please order the appropriate wood bows according to your car. the wood bows are listed as 'accessories' below.
These tops are offered in black or in tan Haartz stayfast canvas with black inside lining. The top has a zippered clear vinyl rear window. If you are attaching a headliner it must be custom made for you; it is not part of the top.
Parts in this category (Jaguar XK-120 & XK-140 Drop Head Coupe) fit cars for years: 1950, 1951, 1952, 1953, 1954, 1955, 1956 and 1957.
We a now pleased to offer hydraulic cylinders, hydraulic motor pumps, and hydraulic hose sets for many different convertibles, they will be listed on your cars page if available. Also, checkout our newly added roof rail weatherstripping seals, front header weatherstripping seals, door weatherstripping seals, trunk weatherstripping seals. Look for extra savings on weatherstripping seals kits.

We are continuing to grow our convertible related products: These include convertible top latches, tonneau covers, relays, switches, rear tacking rails (trimsticks), seat covers, car covers, and carpeting.