Jeep Wrangler, 1997-06
Convertible Top and Convertible Top Parts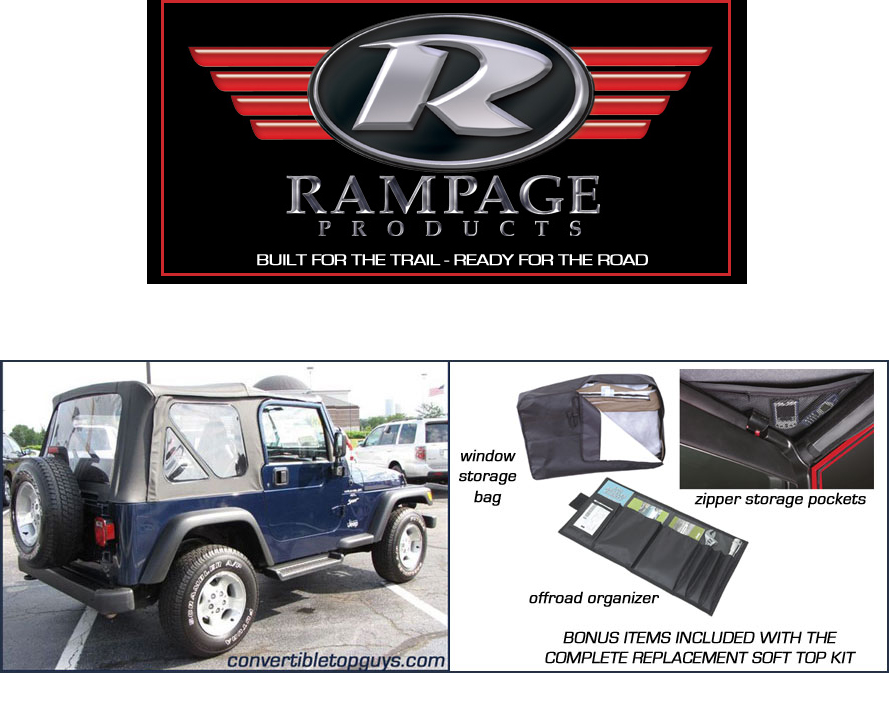 Shop



Have a question?
Talk to us!
---
Important Information
Original Factory Color(s):
Black
A.) The 1997-2006 JEEP Wrangler Complete Replacement Soft Top Kit:
Includes the soft fabric top, new framework, bows, hardware and all accessories necessary for a new top installation, or convert your Jeep from a hard top to a soft top. It comes with easy to follow instructions, tinted vinyl windows, convenient zippered storage pockets, soft top storage bag and an Off Road Organizer that is custom designed with Jeep owners in mind to hold your owners manual, tools, motor vehicle registration, repair records and other important papers.
+ Re-engineered bow system-easy to use and folds down when the top is not in use.
+ Uses factory mounting positions for an easy installation.
+ Zipper storage pockets located in each top front corner for extra storage of smaller items.
+ Windows zip out.
+ Includes window and soft top storage bags.
+ Rear tailgate bar that has a custom made tonneau for protecting valuables and sealing your top.
B.) The 1997-2006 JEEP Wrangler Replacement Soft Top:
+ Fade resistant marine grade, wick-stop thread-Seals the stitch to repel moisture, longer life without color fade.
+ Self correcting zippers on all door windows. Zippers runs smooter and last longer.
+ Rear windows zip out completely.
+ Door panels have a double adjusting system that ensures a snug, tight fit.
+ Includes fabric/glass only. Original equipment soft top hardware and door frames required for installation.
+ All soft top seams are sealed for a weather tight fit.
1997-2006 JEEP Wrangler Accessories:
Soft Top Quick Disconnects (set of four):
+ Replace factory bow attachment on 97-06 Jeep Wrangler with quick disconnects.
+ Easily remove original equipment bow system with quick release pins.
+ Complete set for each bow mount.
+ Constructed of durable corrosion resistant aluminum for added strength and long life.
1997-2006 JEEP Wrangler Soft Top Storage Boot:
+ Protects the soft top from sun when its folded down.
+ Snaps down over the soft tops and bows.
+ Available in Grey, Denim Black, and Spice color.
1997-2006 JEEP Wrangler Tinted Window Replacement Kit:
+ Kit includes 2 quarter side windows and rear window.
+ Fits our soft tops only.
+ Dark tint keeps Jeep cool on hot days and protects the interior.
1997-2006 JEEP Wrangler Mesh Screen Window Replacement Kit:
+ Open air feeling with full top security.
+ Fits our tops only.
+ Kit includes 2 quarter side windows and rear window.
1997-2006 JEEP Wrangler Window & Door Storage Bags:
+ Protect windows while they are zipped out of top.
+ Window bag stores and protects side windows and framed soft upper doors.
+ Includes foam padding to prevent scratching.
Parts in this category (Jeep Wrangler) fit cars for years: 1997, 1998, 1999, 2000, 2001, 2002, 2003, 2004, 2005 and 2006.
We a now pleased to offer hydraulic cylinders, hydraulic motor pumps, and hydraulic hose sets for many different convertibles, they will be listed on your cars page if available. Also, checkout our newly added roof rail weatherstripping seals, front header weatherstripping seals, door weatherstripping seals, trunk weatherstripping seals. Look for extra savings on weatherstripping seals kits.

We are continuing to grow our convertible related products: These include convertible top latches, tonneau covers, relays, switches, rear tacking rails (trimsticks), seat covers, car covers, and carpeting.