Dodge Polara, 1964
Convertible Top and Convertible Top Parts
Dodge Polara Convertible Top Key Features:
Quality: Made to original specs, 100% fit guarantee
Original Configuration: Two piece top, top section and plastic rear window section. Molding above rear window with its chrome tips supplied.

Measures 57" Across Front Bow

Original Factory Material: Haartz pinpoint vinyl in black and classic white.
Alternate Materials: Haartz Stayfast Canvas
All seams are doubly electronically welded and sewn for added reinforcement. Convertible top fabrics are mildew & mold resistant, and UV treated for color fastness. Plastic windows are DOT rated heavy 40 gauge thick vinyl.

Shop with confidence:

6 year manufacturer warranty.

Hydraulic Components:

Hydraulic cylinders, motor pumps and hose sets all available and in stock.
Preview our Convertible Top Installation Guide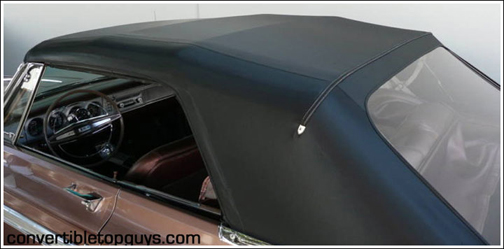 Important Information
Original Factory Color(s): Black and GM White



Original Patterns:
We are pleased to offer replacement tops made from original patterns. Our factory has been collecting dealer original tops since the mid thirties.

Fabrics:
Original convertible top fabric in these Polara and Fury convertibles was pinpoint grain vinyl. We offer these tops with the zippered rear plastic window. For those who want to use the Haartz Stayfast canvas, we offer this choice too. Fabrics are described at the "Help" link at the top of this page.

Hold Down Cables:
A cable is threaded through the side hem of the top on each side. The cables are fastened to the top frame in the front and in the rear. We recommend changing cables with each new top.

Tack Strips:
Tacking strips are embedded in the header bow and the rear top bow. They receive the installation staples or tacks. Tack strips should last through at least two tops. To restore the rear base line tack strips please send a request for information to techsupport@mtmfg.com.

Pads:
Top pads can last through two tops.

Boots:
Top storage boots made with modern leather grained boot vinyls are available and listed under "accessories." To select a boot fabric please jot down your choice and specify it in the checkout message box.

Do It Yourself Installation:
If you are comfortable with using an air driven staple gun and with aligning and gluing with contact cement then this classic two part top installation should be within your capabilities. There is no sewing.

You can make an informed decision about DIY installation by reading the material in the manual summary (link is below.) Our package contains all the needed accessories and a staples and glue kit and the install manual.

Hydraulics:

We now stock hydraulic cylinders, motor-pumps, and hoses for your convertible tops. All are made to OEM specifications. Each can be ordered separately; however, when ordering hydraulic cylinders we recommend replacing both. The chances are that both hydraulic cylinders were manufactured at the same time: if one is on its way out the other may follow. If the top is raised and one hydraulic cylinder is working harder than the other the result over time can lead to a slightly bent convertible top frame. The replacement of both hydraulic cylinders will ensure that the top raises and lowers symmetrically.

Systems for this car take Automatic Transmission Fluid (ATF) and have a 1 year warranty when used with this fluid. Brake fluid should not be used as it voids the warranty. We also offer an installation manual when ordered.

The 12 volt motor-pumps include a mounting bracket with rubber grommets to reduce vibration.

We also offer a rebuilding service for motor-pumps. Not all are repairable, but it is less expensive to have one rebuilt than to buy a new one. The motor-pump would need to be sent to us for evaluation. Hoses come with all new fittings and are made specifically to fit your car.

CONVERTIBLE TOP FABRICS

Almost all manufacturers use Haartz fabrics. They may specify "heaviest weight" or "original replacement" in ways that seem reassuring. But they do not really tell the whole story. Please bear in mind that two things dominate, by far, the quality issue: (a) the manufacturing quality control in the factory that makes the top and (b) the care and thoroughness of the installation. There is a trade-off in weight: heavier is better for resisting tear through, but lighter is better for flexibility and abrasion from within that may arise from movement. Almost all our tops are a flexible medium density (36 oz.) fabric.

Heavier is not better in most cases. Where it is, because of the top design, we will say so and the top will be made of the heavier vinyl.
Sonnenland® is a German-made 3-ply topping made up of an acrylic twill-weave facing, a rubber inner-layer, and a polyester "dobby backing." The dobby backing is a knit-like weave original to many high-end foreign cars. Customers who value originality over cost often pay top dollar for Sonnenland, just to have that authentic "dobby backing," seen only when you look up at the roof of your convertible top from inside your car. Sonnenland canvas is a top-of-the-line material original to various Audi, BMW, and Jaguar convertibles, among others. Sonnenland Canvas can vary in terms of surface weave and/or weight for acoustic performance, but all Sonnenland Canvas promises elegance and long-lasting durability.
Twillfast®, also called Sonnendeck Canvas, is an American-made canvas - a cost-effective substitute for Sonnenland. Twillfast is usually a 3-ply topping (though some versions are 5-ply) with Polyester and/or Polyester/cotton backings. This material, original to certain Camaro, BMW, Mustang, and VW Beetle convertibles, among others, varies in terms of surface weave and/or weight for acoustic performance. Twillfast Canvas is identical to Sonnenland Canvas - elegant and durable - only it's less expensive. This is a top-notch convertible top material, one we often recommend to savvy customers who like a good buy and a quality product.
Stayfast Canvas is an elegant, durable canvas original to cars like the Mazda Miata and the Nissan 370Z. Stayfast is commonly used in replacement convertible tops. Stayfast canvas has an acrylic square weave facing, a rubber inner-layer, and a cotton backing. As with other canvases, the rubber core gives the fabric long-lasting durability. Stayfast canvas is a sleek, beautiful canvas, usually less expensive than Twillfast, but it does not have the dobby backing offered in Sonnenland and Twillfast (Sonnendeck). Stayfast is a popular upgrade to vinyl convertible tops, and as with any canvas, is richer looking and has a higher wear rating than convertible tops made of vinyl.
Haartz Pinpoint Vinyl is the most popular fabric. This vinyl design is original to most American cars from the fifties to the nineties. Pinpoint refers to the little dots or pips that you see if you look closely at the vinyl surface. European cars, such as the old Beetles and others also used pinpoint vinyl as the topping fabric.
Chrysler Sailcloth is featured on many late LeBarons, Sebrings, certain Mustangs and other cars. It is structurally (wear quality) equivalent to the Haartz Pinpoint but has a different surface grain. The grain was designed to imitate the look of canvas. As you can see from the scan of this fabric, it is an exceptionally rich looking material. It is sometimes chosen for replacing convertible tops that originally featured pinpoint vinyl.
Cabrio Grain is also structurally equivalent to the pinpoint. It has a pigskin outer grain vinyl as original to Volkswagen Cabriolets from 1984 onward and to Mazda Miatas and Mercury Capris.
A5S German Canvas (Robbins) The 100% Acrylic Twill Weave Surface Cloth receives a special flame singing treatment to remove the fabric knap; and is laminated to Black 100% Polyester Dobby backing.

This is the original topping for Porsche Boxster and Cabrio convertible tops. 59 inches (150 cm) wide, made in Germany.
British Bison Vinyl is the most popular British roadster convertible top material. It is American made Haartz leather grain vinyl and is an imitation of the British Everflex vinyl top fabric. The British Bison Vinyl convertible top fabric is often referred to as 'crush grain.'
British Everflex Vinyl We are now pleased to offer British Everflex Vinyl for classic English tops. This is the original material used on British convertibles including Jaguar, Rolls Royce and many others. Imported from England, British Everflex vinyl is a supple vinyl with a rich appearance and is more durable than other vinyls. A good, less expensive alternative is Colonial grain vinyl. Colonial has the same texture but is less durable.
HV Denim (also called Twill Weave Vinyl) is heavy duty sport material composed of a distinctive twill grain PVC outer layer and a polyester/cotton blend inside lining fabric.
Trilogy Acoustic Vinyl A heavyweight vinyl that is often used on SUVs like Jeep, because the two-ply composite has the capacity to reduce noise by about 20 percent compared to standard vinyls like Sailcloth. The vinyl material is durable, promises long-lasting wear-and-tear, and resembles the sleek twill cloth commonly found on luxury convertible cars.
Haartz Twillfast RPC This American-made canvas has a twill weave pattern and resembles German-made Sonnenland canvas. It is a great all-purpose canvas and, according to Haartz, is used on 99 percent of convertibles. It is stronger and more durable than Stayfast Canvas and offers more sound protection. Haartz rates Twillfast RPC as a mid-level acoustic product, compared to the low-level sound reduction offered on other top materials like Stayfast