Fiat 850 Spider & Sport Spider, 1967-73
Convertible Top and Convertible Top Parts
Fiat 850 Convertible Top Key Features:
Quality: Made to Fiat specs, 100% fit guarantee.
Original Configuration: One piece top with sealed in plastic rear window.
Original Factory Convertible Top: Black Haartz Stayfast Canvas
Alternate Materials: Haartz Pinpoint Vinyl
All seams are doubly electronically welded and sewn for added reinforcement. Convertible top fabrics are mildew & mold resistant, and UV treated for color fastness. Plastic windows are DOT rated heavy 40 gauge thick vinyl.
Shop with Confidence: Top is made by Robbins wiith their 5 year factory warranty and 18 month labor allowance.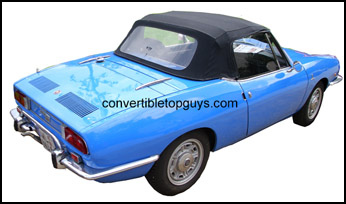 Important Information
Original Factory Color(s): Black



The original topping on 1967-73 Fiat 850 was black pinpoint vinyl. Stayfast canvas is an optional topping. This top is made as original with one plastic window. Use of new hold down cables is strongly recommended.



Parts in this category (Fiat 850 Spider & Sport Spider) fit cars for years: 1967, 1968, 1969, 1970, 1971, 1972 and 1973.