Buick Special, 1941
Convertible Top and Convertible Top Parts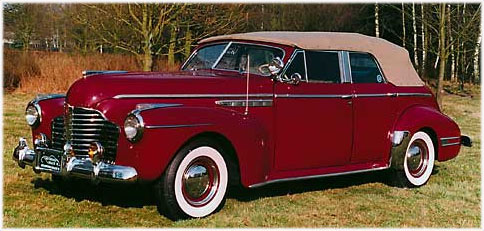 Buick Special Key Features:
Quality: Made to Buick specs, 100% fit guarantee.
Original Configuration: Two piece top, top section and window section
Original Factory Material: Canvas
Original Window: Plastic window.
Original Colors: Black and GM White
Alternate Materials: Haartz pinpoint vinyl
Package Specials: Our Best Buy do-it-yourself convertible top installation package specials include a detailed manual, pads,tack strips, and glue kit.

Shop with confidence:

6 year manufacturer warranty.
Can I install this top myself?
Preview our Convertible Top Installation Guide
Shop



Have a question?
Talk to us!
---
Important Information
Original Factory Color(s):
Black and GM White
Original Patterns:
These tops are made using original patterns that the factory obtained many years ago. They are not copies of copies.
Fabrics:
The original convertible top was made of canvas. The modern anti-fade Haartz Stayfast canvas is the best topping fabric for this car. Haartz pinpoint vinyl is also an elegant classic fabric. It is less expensive than the Stayfast canvas.
Rear Window:
We offer a plastic rear window section and also a "blank curtain." The blank curtain is for those with access to a frame and glass that will be installed into the rear section (curtain.)
Two Part Tops:
This is a classic two part top. You will need to order the main top and the curtain separately for a full restoration. The two parts of the top are integrated during the installation.
Pads:
Foam pads, encased in fabric, are installed under the top and "build out" the top. Our pad set comes with the longer and the shorter (rear) pads. Restorers who want the pads wrapped in canvas can do so. Most restorers of classics are opting for the pads wrapped in vinyl.
Custom Order:
These tops require about three weeks before they can be shipped.
We a now pleased to offer hydraulic cylinders, hydraulic motor pumps, and hydraulic hose sets for many different convertibles, they will be listed on your cars page if available. Also, checkout our newly added roof rail weatherstripping seals, front header weatherstripping seals, door weatherstripping seals, trunk weatherstripping seals. Look for extra savings on weatherstripping seals kits.

We are continuing to grow our convertible related products: These include convertible top latches, tonneau covers, relays, switches, rear tacking rails (trimsticks), seat covers, car covers, and carpeting.