Pontiac Sunfire, Mid 1998-2001
Convertible Top and Convertible Top Parts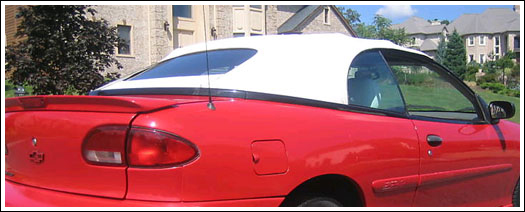 Pontiac Sunfire Key Features:
Quality: Made to Pontiac specs, 100% fit guarantee.
Original Configuration: Two piece top, top and window section
Original Factory Material: Chrysler Sailcloth Vinyl
Original Window: Glass window with defroster
Original Colors: Black, Bright GM White, Medium Parchment
Installation Equipment: Top plus new cables, pads, staples/glue kit, tack strips, and install manual. Optional: Arrow T50ACD Electric Stapler with Staples
Package Specials: Get a top and installation essentials-- including our detailed install manual, new cables, tack strips, and more--for one low price. We also offer the option of including the Arrow T50ACD Electric Stapler, which is ideal for driving 1/4", 3/8", and 1/2" staples into modern convertible top tack strips, eliminating the need for an air gun during your Sunfire convertible top installation. We highly recommend it if you're installing your own Sunfire top.

Shop with confidence:

5 year manufacturer warranty.
Can I install this top myself?
Preview our Convertible Top Installation Guide
Shop



Have a question?
Talk to us!
---
Important Information
Original Factory Color(s):
Black and White
Original Fabrics: Beginning in mid 1998, Pontiac eliminated the front to back seams running along the convertible top and switched to Chrysler Sailcloth vinyl as the topping fabric.
If you have a 1998 Sunfire with front to back seams (and pinpoint grained vinyl) then you should select the 1995-mid '98 tops at our home page.
Classic Two Part Tops: This is a classically designed two part top. The rear window section (called the "curtain" in the trade) and the main top are two separate parts which are integrated during installation. You can read how these tops install via the link to our manual summary below.
Main Top and Curtain available separately: Many owners require only the window section or only the main top. We offer the two separately. Both are required for a full restoration. Our package specials include both the main top, the curtain, and the parts usually required for a complete installation.
Hold Down Cables: There are two cables on each side of the top, embedded inside the top's hems (long side cable hem and rear flap hem.) Usually the side cables should be replaced. The rear flap cables often last through two tops. Cables secure the top to the frame.
Installation Manual: The 22 page, 8 1/2 x 11, illustrated two part top manual that we offer (see accessories) will show the careful restorer how these to part tops install. Thousands of owners have performed self installation following these steps. We cannot provide consulting services. Installation involves no sewing: contact cement work and tacking or stapling are used to install the top. The packages that we offer come with the Sunfire supplement to the two part top installation manual.
Parts in this category (Pontiac Sunfire) fit cars for years: 1998, 1999, 2000 and 2001.
We a now pleased to offer hydraulic cylinders, hydraulic motor pumps, and hydraulic hose sets for many different convertibles, they will be listed on your cars page if available. Also, checkout our newly added roof rail weatherstripping seals, front header weatherstripping seals, door weatherstripping seals, trunk weatherstripping seals. Look for extra savings on weatherstripping seals kits.

We are continuing to grow our convertible related products: These include convertible top latches, tonneau covers, relays, switches, rear tacking rails (trimsticks), seat covers, car covers, and carpeting.